Case Studies
Secure Keyboard Solution
StrikeForce Technologies is the world's leading provider of mobile security services. The services they offer include out-of-band authentication, anti-keylogging, and keystroke encryption solutions. Their enhanced security products are used to improve mobile device security for millions of users worldwide.
Challenges
StrikeForce's ID Genie is an iOS application that generates one-time-use passwords for enhanced identity security. StrikeForce wanted to import ID Genie to other mobile devices, such as Android, as well as add a number of new features to protect user credentials, passwords, online transactions, and access to corporate networks.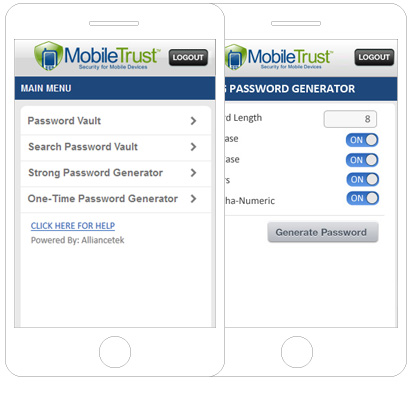 AllianceTek did a great job on my app. Very professional and easy to work with. I would absolutely contract them again for future work.
- Mark Mozolewski
San Francisco, CA
Solutions
StrikeForce sought the assistance of AllianceTek, a software solutions company with experience in developing mobile and security solutions. AllianceTek evaluated the requirements presented by StrikeForce and developed an innovative cross-platform mobile application using the PhoneGap framework. The new application was developed with a password vault, search password vault, strong password generator, OTP generator, encrypted keyboard, and an encrypted browser with a 1024 bit encrypted database (NIST/FIPS) compliant password. These are six of the most powerful and essential security features that every enterprise mobile user should use to maximize security and consolidate their digital identities.
Implementation
The new application was designed with security and compliance as the highest priorities. The password vault allows users to add an unlimited number of passwords associated with websites they visit. The 'search password vault' feature enables users to search for passwords associated with particular websites by simply entering a few characters of the website's url. The strong password generator creates a password based on user-defined preferences, like length, case, number, and alpha-numeric characters that can be stored in the password vault for later use. The one-time password generator features a 'one touch' user enrollment, and supports on-premise and cloud deployments that generate a one-time password for 'Open ID' compliant websites. The encrypted keyboard and browser encrypts all keystrokes between the on-screen keyboard and browser to prevent keylogging. In order to ensure compliance, the application can generate a 1024 bit encrypted database (NIST/FIPS) compliant password.
Result
As a result of working with AllianceTek, StrikeForce received a new and enhanced security application with cross-platform functionality. The new solution improved users' accessibility, usability, and security while widening StrikeForce's customer base by allowing users of other mobile devices to buy the application. This allowed StrikeForce to explore new revenue channels while providing a more robust service to their existing customer base.
Social Media
Similar Projects
Why AllianceTek?
As an IT partner and solutions provider, AllianceTek will help you follow your objective and implement strategies that are unique to your business to see it through to completion – we don't just follow instructions, we unleash the full potential of your vision. AllianceTek employs a global team of more than 100 skilled developers and consultants who approach every project holistically, giving full around-the-clock attention to understanding our clients' needs and providing comprehensive, scalable and extensible development roadmaps.

Your inquiry is submitting. Please wait for a while…