Development Methodology
What is Our Development Methodology?
At AllianceTek, our development methodology is designed to reduce project risks leading to timely development, quality & cost-effective solutions and increased customer retention and satisfaction.
How Do We Approach a Project?
The success of any project greatly depends on the approach towards building the project. Our years of experience have taught us that a single methodology would not work for all projects. Thus, we tailor our process to suit each individual project.

We determine the process according to the unique requirements of our clients. If you have a project plan and require development support, our team can assist you in its technical implementation. If you come up with an idea, our specialist team will work with you, evaluate the requirements, and make a development roadmap to achieve the results your vision dictates.
I had a very good experience working with this team. They are very friendly and available and know to take some initiative when needed. More than that, they delivered perfect work in time!
- Alexandre Gonzales
Webaoo USA, Inc.
Las Vegas, NV
Development Cycle
AllianceTek's Development Cycle is a step-by-step process where every step builds on another. We use an agile development Process to ensure that successful software is built with the right architecture and that no problems occur within the development process. In those cases where problems do occur, our process is designed in a manner to identify and resolve them at an early stage. Our iterative development cycle helps us to evolve each feature of the project. We're readily able to improvise our process to increase the quality of work and efficiency.

Our dedicated team follows this procedure to deliver work on time.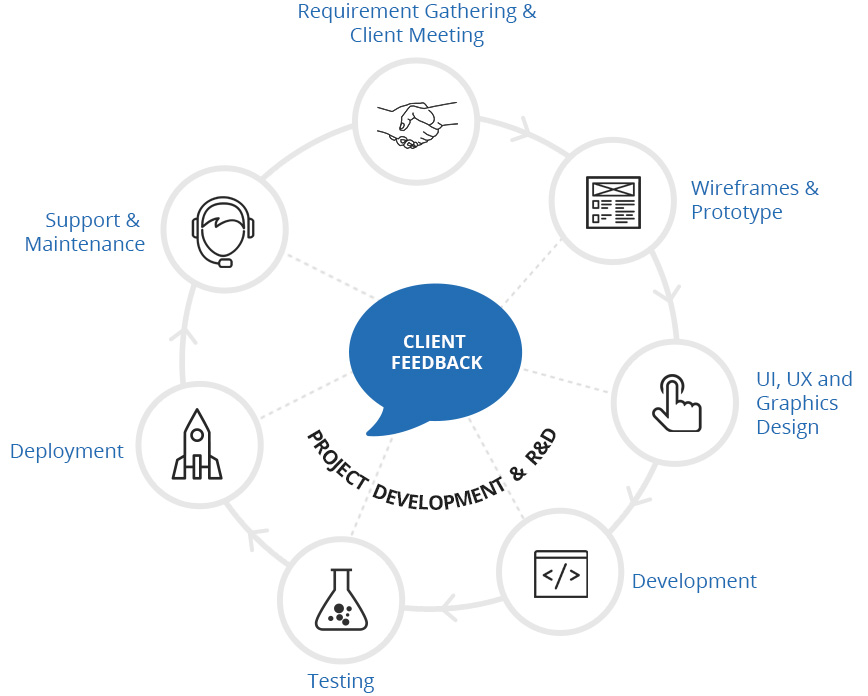 Delivering Value
Our onshore and offshore teams work together for successful and cost-efficient implementation of the project. Our onshore team is always available to the client to respond immediately to any needs and questions. The offshore team collaborates with the onshore team and develops the application to the client's unique specifications.

We follow an iterative process that allows us to respond immediately to the client's requirements, giving them increased satisfaction and transparency.

We keep our clients updated with cutting edge technology developments. Our focused professionals adapt to high-quality technology developments and ensure the use of the right technology to deliver the right solution.

Call us at 484-892-5713 to know more details about our project development methodology.
Why AllianceTek?
As an IT partner and solutions provider, AllianceTek will help you follow your objective and implement strategies that are unique to your business to see it through to completion – we don't just follow instructions, we unleash the full potential of your vision. AllianceTek employs a global team of more than 100 skilled developers and consultants who approach every project holistically, giving full around-the-clock attention to understanding our clients' needs and providing comprehensive, scalable and extensible development roadmaps.

Your inquiry is submitting. Please wait for a while…