Our Approach
At AllianceTek, we believe that the key to successfully completing any project is the particular approach implemented for building solutions. Our approach is to streamline the right people, the right technology, and the right procedures to deliver scalable business solutions.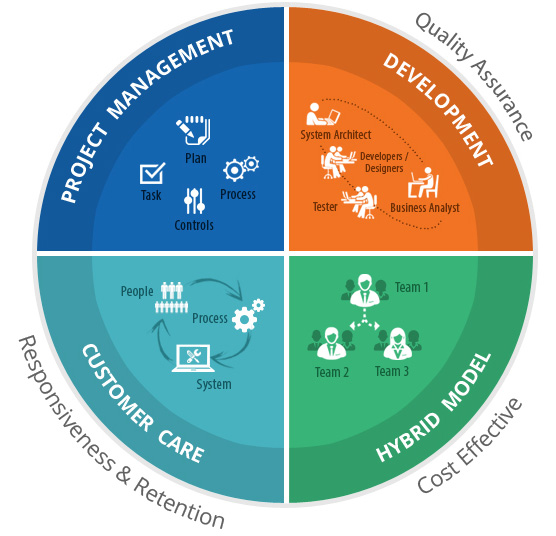 Project Management Approach:
We take agile & iterative process that allows us to manage our cost, quality & timeline by regularly managing technological challenges, project risks and resources. This leads to consistent and continuous development with regular client feedbacks. Starting with a thorough analysis of the requirements, we select the right combination of technologies, plan & execute development with right priorities.

With this approach we have achieved higher responsiveness by ensuring our clients receive timely update on the progress and all their requirements are met.
Development Approach:
The AllianceTek team makes sure that even your smallest requirement is provided with the right kind of solutions.

We divide entire project into smaller components, and every component is produced individually with the main focus on core project elements. Every team member, including system architects, business analysts, testers, developers, and designers will take part in the development process.

This model makes sure that clients get the quality they want and helps us create the right software according to clients' requirements. In this way we make sure that even the smallest requirements are fulfilled.
AllianceTek is fantastic to work with. They are a team of true professionals. You will become friends with the people at AllianceTek. Not only do I recommend them for your projects, but I am going to use them again. They know what they are doing, they give suggestions, and anticipate potential issues. I am so happy to have crossed paths with this fine group of professionals.
- Alex Ghatan
(President)
Skyline Property Group Inc.
Atlanta, GA
Hybrid Approach:
AllianceTek's objective is to maximize competency and ROI, and provide quality, cost-efficient, and timely solutions. AllianceTek executes the hybrid model and employs onshore & offshore teams for faster development, smoother communication, and better cost-efficiency.

AllianceTek's Hybrid Model is a 3-tier system that guarantees lower costs, better project management control, and suitable deliverables because of rapid team collaboration and communication.

On the 1st tier we have our clients. 2nd tier is our US-based team comprising of business analysts, delivery managers, designers, and a project manager. They understand the ins and outs of client requirements and define functionalities and user interface. 3rd tier is our offshore team comprising of tech lead, designers, business analysts, an R&D team, software engineers, certified professionals, testers, and experts to execute the development process.
Customer Care Approach:
Customer retention has always been important to us. Our customer responsiveness and retention is by aligning our people, process & system.

AllianceTek has a project management portal used by our team as well as track & monitor the minutest tasks issues. For systematic & diversified management, the entire project is segmented into different tasks.

Client can also post new requirements; provide feedback and communicate with the team within 24 hours.

Call us at 484-892-5713 to know more details about various AllianceTek Approach.
Why AllianceTek?
As an IT partner and solutions provider, AllianceTek will help you follow your objective and implement strategies that are unique to your business to see it through to completion – we don't just follow instructions, we unleash the full potential of your vision. AllianceTek employs a global team of more than 100 skilled developers and consultants who approach every project holistically, giving full around-the-clock attention to understanding our clients' needs and providing comprehensive, scalable and extensible development roadmaps.

Your inquiry is submitting. Please wait for a while…