The AllianceTek Custom Software Development Advantage
As a software development company, we're simply addicted to helping our clients take advantage of IT business solutions that increase productivity and provide team communication. We help organizations by:
Employing intelligent processes and leading project management tools to ensure that all team members are on the same page, your project stays on track and nothing falls through the cracks.
Assembling cross-functional teams that encompass all the skills necessary to achieve your vision--from project managers and developers to designers, solution architects, database engineers and more. Our experienced team of experts communicates throughout the project life cycle to orchestrate harmonic and cohesive solutions.
Employing an agile development methodology. This includes a rapid, iterative, collaborative process responsive to customer feedback and market changes. This accelerates development while still maintaining a keen eye for detail and ensuring high value every step of the way.
Taking advantage of service-oriented architecture. We design code in modules that can be combined in multiple ways to meet user needs, or changed as necessary like LEGO® building blocks. Integration is never afterthought.
Using a component factory model. A car assembly starts with the frame, and later custom features like paint and interior design are added. We follow a similar process, focusing first on your system's essential foundation, and dealing with optional customizations and aesthetics later. This tamps down on development time and costs by ensuring the structure is in place before the bells and whistles are added.

The AllianceTek team are the very best I've ever worked with. I absolutely recommend them. They are very professional and can totally understand the client's idea. They are also very flexible. After years of working with different developers I can honestly they are the best!! Thank you so much!

- Natalie Eliscovich

Control GE

Buenos Aires, Distrito Federal, Argentina

Scaling teams – we recognize that resource needs change throughout the project lifecycle. A static team can suffer two problems. It may be over-staffed during some project phases, needlessly eating up funds, or starved of resources at other times, creating stress, lowering quality and slowing development. We scale the team as it moves through the project phases so the project progresses smoothly and economically through the entire development cycle.
While many software development companies focus on a subset of available technologies, AllianceTek houses broad technology expertise under one roof. This enables us to:
Discover the best combination of technology solutions and intertwine them for optimal results.
Implement distinct technologies on each project tier to enhance outcomes.
Customize the user-experience to cater to their unique needs.
Our team will be your reliable IT partner, taking you from project concept through development and support. The roots of a project's success start with a detailed initial project scope. From there we chart the course from requirement definitions to application architecture, design and development. Nothing is deployed until it has undergone our rigorous quality assurance procedures. The process continues after initial deployment, as we continue to nurture and host your application as it shifts paths to meet your business' changing needs.
Information technology is a complex field, so we test your application from all angles to ensure everything works without a hitch. Our meticulous, multidimensional quality assurance process includes: black box, white box, integration, unit, sanity, regression, usability, security, black and white-box testing and more.
We are an IT management company that uses a proactive, simultaneous, multi-dimensional approach to ensure your system is secure, scalable, expandable, and meets or exceeds your performance expectations. We're prepared, for example, to expand your system's usage from 5 to 50,000 users in a cost-effective way. And if you need to add functionality later, we can supply additions without tearing down your system's foundation. You can rely on us to anticipate changes and address them quickly and thoroughly.
Bringing You the Most Advanced IT Business Solutions at the Right Cost, Time and Quality-Level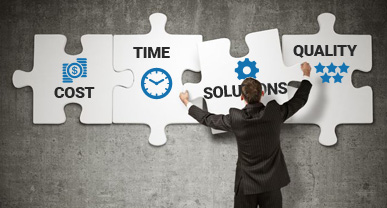 This is how we bring you custom software development of exceptional quality and value:
We employ a customer-centric approach. Our prime focus is our responsiveness towards our customers. We make sure that we respond to client queries within 24 hours.
Every day our staff keeps up to date with the latest technology platforms and brings originality and innovation to the IT business solutions we develop.
We believe it takes a global village to create technology that's on-time, on-budget and on-target with your needs. You'll work with our U.S.-based client-facing team while our experienced international team executes the details of development.
We utilize an iterative process wherein each element, from the smallest to largest, is addressed. We starting each software project with an Application Roadmap to ensure our clients get premium quality results.

Call 484-892-5713 now to schedule your free consultation, and discover how AllianceTek can help you leverage custom software development for your business' prosperity.
Why AllianceTek?
As an IT partner and solutions provider, AllianceTek will help you follow your objective and implement strategies that are unique to your business to see it through to completion – we don't just follow instructions, we unleash the full potential of your vision. AllianceTek employs a global team of more than 100 skilled developers and consultants who approach every project holistically, giving full around-the-clock attention to understanding our clients' needs and providing comprehensive, scalable and extensible development roadmaps.

Your inquiry is submitting. Please wait for a while…