Case Studies
Mobile Integrated SharePoint Project Management Portal
A wireless telecommunications company that provides engineering, construction, fulfillment, and project management to the industry was in search of a partner to enhance their existing SharePoint-based project management system. They serve all major U.S. phone carriers in following their requirements and developing and executing the processes required to take advanced initial designs to completion.
Challenges
The company had many on-field technicians tasked with carrying out various carrier development projects. However, due to the lack of a proper project management system, these technicians could neither report back nor stay updated with the current information on the system. Their SharePoint system did not support uploading, compressing, or zooming in on images. The absence of collaboration and portability resulted in communication problems and an increased duration of work.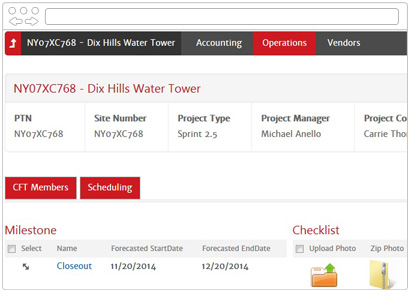 AllianceTek were very patient and professional with us throughout the whole job but especially when we made changes to the original proposal after the job was underway. Would definitely use them again.
- Julie Henry
CBT4Kids
Australia
Solutions
The company sought the assistance of AllianceTek, a leading IT solutions and software development company with experience in both mobile solutions and SharePoint customization. AllianceTek has often worked with applying SharePoint as a communications and collaboration tool to create more fluid and effective business processes. AllianceTek focused on the work of on-field technicians and the flow of necessary information. In turn, they designed a SharePoint solution that fetched data from an external source and displayed it in the desired format. Additional filters and a search facility were added that could not have been achieved with SharePoint's original built-in features.
Implementation
The project management solution was deployed with a three-tiered architecture for enhanced performance. AllianceTek customized the look and feel using custom grids and included features that allowed users to search and filter data. The system can now prepare a report by pulling in external data by establishing a BCS connection. We also added a feature to facilitate photo uploading, zipping, and zooming using custom code. Further, a project task assignment feature was also implemented along with a scheduling feature to ensure employees can stay on top of assignments and communicate as needed. We also made available a feature than can assign actions on multiple checklists to users.

AllianceTek developed a mobile app using Native iOS that integrated with the new system. The mobile app enables on-field technicians to take pictures of the problem site and upload them directly to the project management system. They can also update their work status conveniently from their mobile phone.
Result
As a result of working with AllianceTek to develop a better project management solution, the client now has a system that simplifies communication and task assignments. By offering the right information at the right time and presenting it in a clear and concise format, the client was able to complete projects faster and with less risk of error. The iPhone app allows on-field technicians to easily take pictures of problem sites as well as update their task checklists and work status. AllianceTek applied re-usable elements, such as a site-wide list with the use of the SharePoint content-type, which made development faster and more cost-efficient.
Social Media
Similar Projects
Why AllianceTek?
As an IT partner and solutions provider, AllianceTek will help you follow your objective and implement strategies that are unique to your business to see it through to completion – we don't just follow instructions, we unleash the full potential of your vision. AllianceTek employs a global team of more than 100 skilled developers and consultants who approach every project holistically, giving full around-the-clock attention to understanding our clients' needs and providing comprehensive, scalable and extensible development roadmaps.

Your inquiry is submitting. Please wait for a while…