Case Studies
Mobile Fleet Management Solution
GPS North America provides integrated fleet management solutions to sales, services, and delivery companies throughout the United States. GPS North America helps businesses track, locate, and manage company assets through their fleet management and tracking software services, empowering them to optimize employee and overall performance with real-time GPS tracking.
Challenges
GPS North America uses a web based SignalTrack™ GPS tracking solution. However, this service did not take advantage of mobile technology that would allow GPS North America to explore new revenue channels through a larger customer base. GPS North America needed a mobile solution that could integrate with their existing systems and provide new features, such as real-time driver tracking and localized maps. By implementing these new integrated features through mobile platforms, the tracking solution would be able to identify the desired location of the driver as well as display directions for how to reach the driver's current location and his or her destination.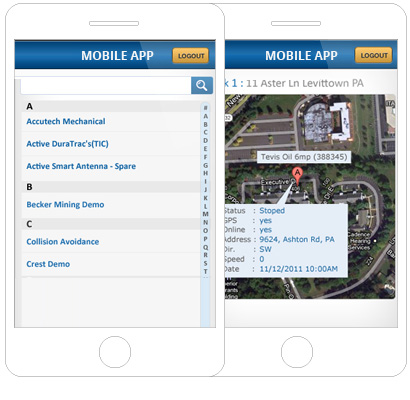 GPS North America offers a full continuum of fleet management capabilities - including GPS tracking with integrated dispatch. To better serve our customers, we were looking to add our GPS tracking application to the iOS and Android platforms. After talking to several software development companies, we found that AllianceTek offered the best combination of cost and capabilities to assist us with the project. Working with AllianceTek has been fabulous. They are highly responsive, so any changes or improvements we needed were implemented quickly. With AllianceTek's help in developing the new GPS tracking application, we can expect to attract more customers and retain the customers we already have.
- Todd Lewis
(President)
GPS North America
Solutions
In order to meet the challenge of mobilization, GPS North America partnered with AllianceTek, an IT solutions and software development company with experience in GPS and real-time tracking solutions for businesses. AllianceTek assessed the needs of GPS North America and designed a comprehensive GPS-based mobile solution. The GPS-based mobile solution would identify all current fleets and company assets on Google Maps by using Google Maps API and SignalTrack's web services, allowing for real-time information sharing and tracking.
Implementation
AllianceTek created a cross-platform mobile application using the PhoneGap framework. Users can login for secure access, locate specific drivers, view asset listings, display locations, and observe drivers' status and speed. This enabled each user to connect to individual assets and retrieve directions via the user's current location. Users can pinpoint the location of an asset on the map by using Google Maps API and call individual drivers. Because the application is integrated through SignalTrack's Web Services, it can retrieve data from GPS North America's existing systems.
Result
As a result of working with AllianceTek, GPS North America has a unique and comprehensive GPS based cross-platform mobile application. AllianceTek delivered the high-quality solution quickly and at a low cost using our hybrid development model. They were able to meet the needs of their clients by offering them an enhanced real-time information sharing and tracking solution. This solution enables users to securely access real-time information about fleets and assets using third party systems integration. The solution substantially increases the speed of operations as well as the reliability, because users don't have to use the web based portal to get the real-time information they need, but can get it securely and on the go using the Android mobile application.
Social Media
Similar Projects
Why AllianceTek?
As an IT partner and solutions provider, AllianceTek will help you follow your objective and implement strategies that are unique to your business to see it through to completion – we don't just follow instructions, we unleash the full potential of your vision. AllianceTek employs a global team of more than 100 skilled developers and consultants who approach every project holistically, giving full around-the-clock attention to understanding our clients' needs and providing comprehensive, scalable and extensible development roadmaps.

Your inquiry is submitting. Please wait for a while…