Let's Discuss Your Project

Portfolio
Mobile Fleet Management Solution
Through this application the users can launch map and locate current location of vehicles and list directions on how to get to the driver/trailer.
Why AllianceTek?
We developed a cross-platform mobile application and improved client's real time information accessibility and speed of business operations.
We, as a true technology partner, gathered the understanding of the current web services to provide a complete solution.
Provided integration services using web services to securely obtain accurate information of vehicle over the mobile.
Integrated enhanced features to enable the user to launch a map and find and locate each driver/trailer as well as lists directions on how to get to the driver's/trailer's location.
Benefits to Our Client:
Opened doors for a new revenue channel by mobilizing fleet management and the ability to track assets on the go.
Our client was benefited from the cost effective & timely execution of this intelligent GPS based mobile solution.
The client could offer accurate real-time tracking of the assets.
Technology Features: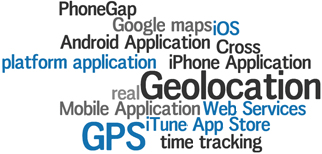 Case Study

AllianceTek's client designs, manufactures, and markets Smartphone access control systems and components, as well as Smartphone apps and hosted services...
Similar Projects
GPS North America offers a full continuum of fleet management capabilities - including GPS tracking with integrated dispatch. To better serve our customers, we were looking to add our GPS tracking application to the iOS and Android platforms. After talking to several software development companies, we found that AllianceTek offered the best combination of cost and capabilities to assist us with the project. Working with AllianceTek has been fabulous. They are highly responsive, so any changes or improvements we needed were implemented quickly. With AllianceTek's help in developing the new GPS tracking application, we can expect to attract more customers and retain the customers we already have.
- Todd Lewis
(President)
GPS North America
Why AllianceTek?
As an IT partner and solutions provider, AllianceTek will help you follow your objective and implement strategies that are unique to your business to see it through to completion – we don't just follow instructions, we unleash the full potential of your vision. AllianceTek employs a global team of more than 100 skilled developers and consultants who approach every project holistically, giving full around-the-clock attention to understanding our clients' needs and providing comprehensive, scalable and extensible development roadmaps.
Know more »
Your inquiry is submitting. Please wait for a while…