Case Studies
SaaS Platform, Site Survey Suite
Situation
go-eView, the advanced-level photo/data collection and reporting platform from the French Company, quickly manages, sorts and filters on-site information for multi-site retail, restaurant and property management clients including Kroger, Staples and Pandora. French Company turned to AllianceTek for a new enterprise solutions program to provide go-eView clients with more efficient and intuitive data collection, surveying and reporting tools.
AllianceTek Solutions
French Company, which also offers a subscription SaaS service on the go-eView platform, was looking for a customized program to improve overall workflow and better integrate geo-location-based data collection and mapping features. AllianceTek's enterprise engineering experts began with a thorough consultation before moving on to POCs and wireframes to validate the real-world feasibility of the recommended technology. Next, they worked diligently to create a solution from scratch, within the .NET framework, then helped deploy the new program in the cloud.


The go-eView platform now provides virtual-tour and 360-degree photo viewer tools to enhance the viewing experience. Users can also easily geotag and annotate photos.
Geo-location and mapping capabilities include map layouts with representations of completed surveys.
Users can create an unlimited number of surveys to collect information from any location; they can also collect survey data offline, and share data externally.
Users can also take advantage of survey automation capabilities and save time with new mobile forms.
Utilizing their Microsoft Azure expertise the AllianceTek team created and implemented on-demand cloud architecture, allowing users to enjoy unlimited data and media storage.
Mobile apps for iOS and Android are providing users with on-the-go convenience and robust functionality.
For a perfectly scalable solution, the software will automatically grow as the number of users grows.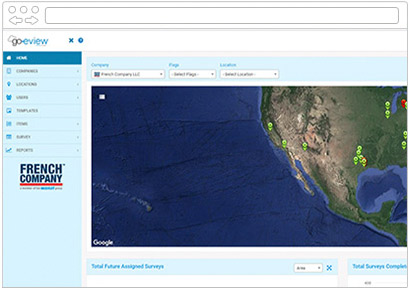 The AllianceTek team are the very best I've ever worked with. I absolutely recommend them. They are very professional and can totally understand the client's idea. They are also very flexible. After years of working with different developers I can honestly they are the best!! Thank you so much!
- Natalie Eliscovich
Control GE
Buenos Aires, Distrito Federal, Argentina
Result
French Company now enjoys a uniquely-versatile and highly-scalable SaaS application that can be used across multiple industries, providing their clients with better opportunities to boost revenue.
With their new, proprietary applications French Company is now less dependent on third-party apps, producing immediate cost savings and improving ROI.
go-eView users now have easier access to the critical field data they need to make better fact-based decisions about the operations they manage.
Social Media
AllianceTek IT Insights
This custom enterprise solution, for ASP.Net web applications and iOS/Android mobile apps, is ideal in a wide variety of settings including retail, restaurants, construction, real estate and property management.
Similar Projects
Why Partner with AllianceTek?
Since 2005, we've been providing advanced IT business solutions that are quality-assured, affordable and on-time. We specialize in leading technologies and platforms like Salesforce, Microsoft.NET, Microsoft Sharepoint, iOS, Android and many more. Our highly-experienced and dedicated team of on-shore and off-shore pros are ready to manage your project from concept to development to support — delivering advanced technology solutions designed especially for your business.

Your inquiry is submitting. Please wait for a while…