Case Studies
Technical Solution to New Realty Marketplace
A client that owns and runs a real-estate listing website that caters to buyers, sellers and brokers wanted to launch a new real estate marketplace platform that enables borrowers to directly access affordable real estate loans.
Challenges
The client had an idea about what they wanted their new platform to do, but lacked the experience and resources to develop and implement it themselves. They had previous experience working with AllianceTek on another real estate project and sought our assistance again to bring their vision to life.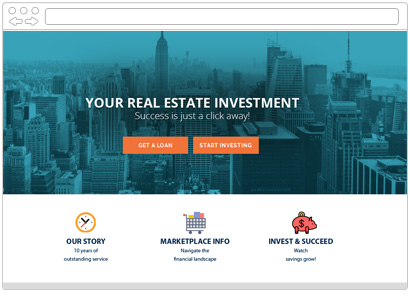 What an awesome experience I had working with this team. If you need a professional, reliable and competent team to help you out with any of your tech needs you don't need to look any further. From start to finish this team really made the process easy and did a fantastic job. I would use them again in a heartbeat.
- Payam Pakmanesh
(CEO)
Cable Car Apps LLC
Hercules, CA
Solutions
AllianceTek, a software development company that provides end-to-end support with a global team of dedicated experts, developed a roadmap and created wireframes along with scoping features, database design and the project architecture with a fixed resource model that we carried out using an agile development methodology.

Following the client's approval of our roadmap and prototype, we created a dynamic web platform that allows borrowers and investors to interact directly to find partners and process real estate loans. In addition to allowing borrowers to apply for loans and lenders to invest their money into the market place, the client's real estate web platform includes a news and press release section that provides visitors with immediate real estate information.
Implementation
We worked with the client's initial idea and expanded upon it to bring them a robust real estate web platform, implemented with ASP.NET, Framework 4.0, C#, LINQ, and responsive HTML using media query. Our agile methodology ensured the client was appraised and could provide feedback through every step of the project and saved on cost and time by allowing us to address changing circumstances iteratively. We performed component testing to make sure the delivered product worked as a cohesive whole and met the standards the client expected, and offer ongoing support and maintenance to keep the platform up to date and running at peak functionality.
Result
The client received a product that met their business needs and performed the functions they required to provide their customers with a responsive, user-friendly real estate marketplace investment web platform. The solution AllianceTek provided resulted in a greater reach for the client to connect with their target market and enabled them to perform more business and receive a great ROI.
Social Media
Similar Projects
Why AllianceTek?
As an IT partner and solutions provider, AllianceTek will help you follow your objective and implement strategies that are unique to your business to see it through to completion – we don't just follow instructions, we unleash the full potential of your vision. AllianceTek employs a global team of more than 100 skilled developers and consultants who approach every project holistically, giving full around-the-clock attention to understanding our clients' needs and providing comprehensive, scalable and extensible development roadmaps.

Your inquiry is submitting. Please wait for a while…