Case Studies
Data Processing & Analytics System
About client
A leading alternative asset management company that offers direct lending solutions and other forms of capital primarily approached AllianceTek for an automated solution that makes the data protection process simpler and seamless.
Challenges
The client needed a CRM system that could handle the massive amounts of data processing in real-time. During the process of entering the transaction information, the data collected from the DST Sales connect comes in the form of a flat file, which is very difficult to interpret. Because this is practically impossible to accomplish manually and requires a dependable automated system, the customer must have access to the CRM. The client wanted the team of AllianceTek to develop an automatic system that could import the records into the CRM without doing any manual labour.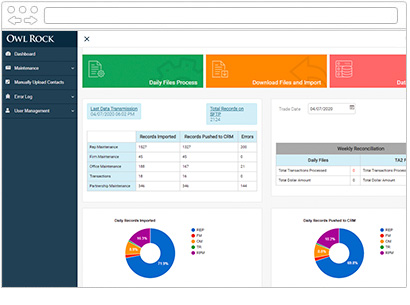 The successful integration delivered by AllianceTek was critical to the successful operation of our client's business, and all project stakeholders are pleased with the solution provided. Their team is flexible in adapting to management styles and provided transparent updates on project progress.
- Timothy Gaven
(Vice President)
Owl Rock Capital
Solutions
In order to make better and more accurate business choices for the client, AllianceTek developed an intelligent and automated system. This system allows them access to the most recent transaction details at all times. We developed user roles and permission modules to restrict access to content editing rights to just those who are permitted.
Our software development team made sure that the customer has full authority over the system and that, if necessary, they can manually perform the operation to update records to the CRM. We also worked to build a comprehensive and integrated solution for processing and feeding the data in the most efficient way possible and dashboards to provide insights on data feeds.
Implementation
The team at AllianceTek built a smart, intelligent algorithm that can be rolled back to any previous date and restore the files in case of data discrepancies, making the tool more safe and resilient. We made the system compatible to quickly and accurately send millions of data points into a system.
Social Media
Result
The client received a tool that fulfilled all their data processing requirements. Using the tool, the client can update user financial records based on their confirmation. The well-maintained database ensures smooth operation and the implemented analytical report helps the company make better financial decisions.
Similar Projects
Why AllianceTek?
As an IT partner and solutions provider, AllianceTek will help you follow your objective and implement strategies that are unique to your business to see it through to completion – we don't just follow instructions, we unleash the full potential of your vision. AllianceTek employs a global team of more than 100 skilled developers and consultants who approach every project holistically, giving full around-the-clock attention to understanding our clients' needs and providing comprehensive, scalable and extensible development roadmaps.

Your inquiry is submitting. Please wait for a while…