Case Studies
Data Processing & Analytics System
About client
Owl Rock is a leading alternative asset manager offering direct lending solutions and other forms of capital primarily to U.S. middle market companies across a variety of industries. Owl Rock is comprised of a team of seasoned investment professionals with significant and diverse experience from the world's leading investment firms and financial institutions. Owl Rock's relationship-oriented approach to investing provides companies with sizeable commitments to facilitate transactions and support their growth needs with certainty, speed and transparency throughout the entire investment process.
Business Needs/ About Project
A USA based client approached AllianceTek to develop an automated solution that streamlines the entire data processing system in a seamless manner. The main aim of the client is to build a robust yet intelligent mechanism that not only just process, displays and feeds complex data into the Microsoft dynamics CRM 365 but also optimizes the database to a great extent to ensure better performance.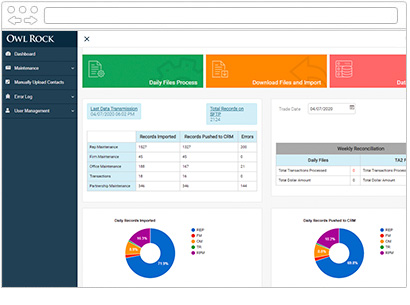 The successful integration delivered by AllianceTek was critical to the successful operation of our client's business, and all project stakeholders are pleased with the solution provided. Their team is flexible in adapting to management styles and provided transparent updates on project progress.
- Timothy Gaven
(Vice President)
Owl Rock Capital
Challenges
Processing huge chunks of real-time data into CRM system
While feeding the transaction details, the data acquired from the DSTSalesconnect is in a flat file format which is quite complex to parse. Furthermore, the client needs to import the records into the Microsoft dynamic CRM each time whenever there is any new record or the existing records are updated, which is as good as impossible to achieve manually and requires a reliable automated system.
Solutions
AllianceTek built a smart, automated yet intelligent system that gives them access to the latest updated transaction details all the time to take better and accurate business decisions.
User roles and permission modules were created so as to share edit rights to the authorized personnel and not to everyone.
Our development team ensured that the client has complete control over the system and if needed, they can manually run the process at any given point of time so as to update records from middleware to CRM.
Manual data updating option was suggested by the development team in case to edit and update the data fetched from the DST Sales Connect.
A complete integrated solution to process and feed the data in a streamline manner.
Dashboards were created to provide insights on the processed data feeds
Reports were created to highlight deviations in the data and the errors found on the data feeds.
Features
A smart, intelligent algorithm integrated in a way that we can rollback to any past date and reprocess the files in case of any new data of discrepancy; thus making the tool more robust and secured.
Processing and feeding millions of data in a fast and accurate manner.
Finding erroneous and bad data feed by the user/system.
Updating financial records based on user's confirmation.
System can reconcile financial details of the transaction.
Clean and optimized database to ensure better and seamless performance.
Analytical reports that help company to take better and accurate finance decisions.
Social Media
Similar Projects
Why AllianceTek?
As an IT partner and solutions provider, AllianceTek will help you follow your objective and implement strategies that are unique to your business to see it through to completion – we don't just follow instructions, we unleash the full potential of your vision. AllianceTek employs a global team of more than 100 skilled developers and consultants who approach every project holistically, giving full around-the-clock attention to understanding our clients' needs and providing comprehensive, scalable and extensible development roadmaps.

Your inquiry is submitting. Please wait for a while…