Case Studies
Franchise Management Software System
Situation
Saladworks, the No. 1 salad franchise in the U.S., now boasts more than 100 locations worldwide. When rapid growth began outpacing the performance of their legacy franchise management system, they decided to partner with AllianceTek. Saladworks' wish list included a system that would grow with them while retaining the familiar flow of the old system, plus easy-to-use tools to help drive more expansion and revenue.
AllianceTek Solutions
Saladworks' franchise management system had become cumbersome, and users found it difficult to generate the reports they needed. Over a six-month period, AllianceTek's dedicated teams — including SharePoint developers, design and branding, quality assurance, team leadership and process management — worked closely with Saladworks on a customized Office 365 site with many new tools and innovations.


Utilizing Microsoft Office 365 and Power BI expertise, AllianceTek delivered a brand new franchise management system loaded with useful and easy-to-use features.
New forms and data bases — which help users handle franchise agreements, lease and contract information and store lists with ease — are all part of a new, intuitive user experience.
AllianceTek migrated approximately 10 years' worth of legacy data into the new system, including organizing thousands of records into new lists and tables.
To reduce the learning curve for Saladworks users, designers took special care when creating the new user interface and user experience.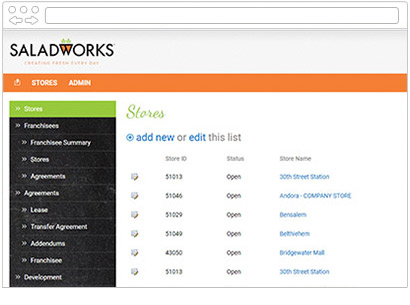 The AllianceTek team are the very best I've ever worked with. I absolutely recommend them. They are very professional and can totally understand the client's idea. They are also very flexible. After years of working with different developers I can honestly they are the best!! Thank you so much!
- Natalie Eliscovich
Control GE
Buenos Aires, Distrito Federal, Argentina
AllianceTek Innovations
Saladworks' new SharePoint site isn't the typical SharePoint site. Instead it features customized design and forms.
AllianceTek utilized advanced tools like Power BI to fulfill Saladworks' needs.
The new site includes innovative and useful design elements.
Saladworks users can now take advantage of new business intelligence capabilities and reports designed specifically for them.
AllianceTek seamlessly migrated data and forms into the new system.
Saladworks users are now enjoying customized Export to Microsoft Excel capabilities.
Result
Forms in Saladworks' new franchise management system require fewer clicks to get the job done, saving users valuable time.
Users can now take advantage of Office 365 out-of-the-box functionality like Export to Excel and Quick Edit for better productivity.
Along with a brand-new, vastly-improved user experience, Saladworks is now enjoying several new business intelligence reports to help generate additional revenue and fuel further growth.
Users are able to easily access historical data when they need it.
Saladworks is now relying on AllianceTek for end-to-end support, including hosting of their old system as well as management of their new Microsoft Office 365 site.
Social Media
AllianceTek IT Insights
AllianceTek specializes in converting legacy systems into new, modern systems that are more productive and easier to use. Our development process centers around our clients' vision and needs. Every project is guided by a unique development roadmap — so that software is built with the correct architecture, for example — to deliver a high-quality, cost-effective, on-time solution.
Similar Projects
Why Partner with AllianceTek?
Since 2005, we've been providing advanced IT business solutions that are quality-assured, affordable and on-time. We specialize in leading technologies and platforms like Salesforce, Microsoft.NET, Microsoft Sharepoint, iOS, Android and many more. Our highly-experienced and dedicated team of on-shore and off-shore pros are ready to manage your project from concept to development to support — delivering advanced technology solutions designed especially for your business.

Your inquiry is submitting. Please wait for a while…