Case Studies
VOIP/SIP calling mobile application
Zada Partners is a Portland, Oregon based technology consulting and solutions company that provides product development, infrastructure design, project management, disaster recovery, radio frequency identification, and corporate/brand identity. They assist clients with their technology needs and provide solutions that distinguish their high-quality and reliable services.
Challenges
Zada Partners had developed a messaging application for the Android operating system. The application allows users to register for free or paid plans to call or message other users using Wi-Fi, a 3G connection, or Bluetooth chat. They were seeking new revenue channels and a new customer base, and wanted to achieve that goal by bringing the application to the iPhone platform and adding several new features to the messaging mechanism.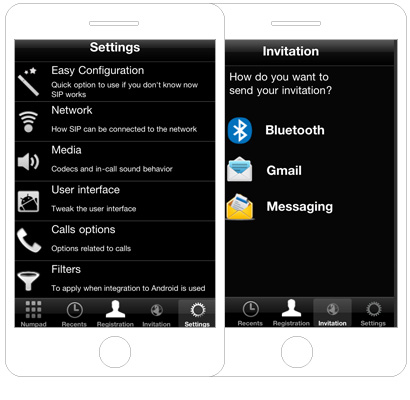 These guys did a tremendous job. I will definitely work with them again. They communicate quickly, respond to feedback and have great expertise.
- Reggie Brown
Kirkland, WA
Solutions
AllianceTek, a software and solutions company with expertise in developing iPhone applications, analyzed the requirements for Zada Partners' application and developed a detailed solution roadmap. AllianceTek developed a native application for the iOS Platform that creates SIP sessions and is connected to the server, enabling calls over Internet protocol. The SIP client would be used to create, manage and terminate sessions in IP based network. Session could be simple two-way telephone calls or collaborative multi-media conference sessions. The solution would use an SIP server, enabling users to send emails, SMS messages, and Bluetooth Chat through a single application.
Implementation
AllianceTek implemented the SIP/VoIP-based application for the iPhone by using the PJ SIP framework. The new version of the messaging mechanism allows users to create SIP sessions to make calls easily and securely. The application includes a number of server-side settings, including enabling or disabling Wi-Fi, using a 3G connection, and viewing call logs. The application includes enhanced features like account registration, usage tracking, support for multiple SIP accounts, friend invites and advanced settings for network, media, UI and call options.
Result
By developing an iPhone version of Zada Partners' successful Android messaging mechanism, the client found new revenue channels and achieved a larger customer base. AllianceTek has opened up a wider market for Zada Partners by using the iOS platform to increase their scope and usability. Zada Partners can now distribute the application to a larger customer base and provide better services to their clients.
Social Media
Similar Projects
Why AllianceTek?
As an IT partner and solutions provider, AllianceTek will help you follow your objective and implement strategies that are unique to your business to see it through to completion – we don't just follow instructions, we unleash the full potential of your vision. AllianceTek employs a global team of more than 100 skilled developers and consultants who approach every project holistically, giving full around-the-clock attention to understanding our clients' needs and providing comprehensive, scalable and extensible development roadmaps.

Your inquiry is submitting. Please wait for a while…