Case Studies
Virtual Advisor-Interactive
Virtual Advisor is a developer of e-learning content used by the financial, healthcare, and educational industries to educate about various processes, services, and products. Through e-learning, education is more accessible and distributable to a wide audience speaking different languages in different parts of the world.
Challenges
Virtual Advisor had the innovative content and concepts for the interactive features of an e-learning platform, but lacked the technical skill to develop such a platform. With a strong belief in the power of knowledge and the benefits of e-learning, Virtual Advisor sought a partner with a technology solutions background that would be able to develop an interactive Flash teaching tool for a large financial organization. Additionally, the solution would have to be accessible to a global audience.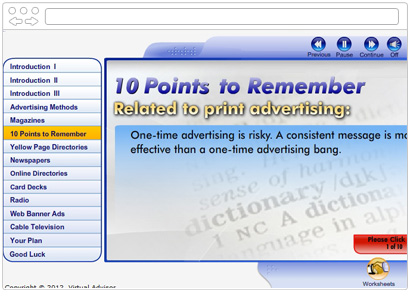 Great work! Excellent! The calculators both look great and do the calculations as needed. I have tested the calculators and they both work as they should.
- Steve Turner
(President)
DeVaughn Network
Solutions
Hearing of AllianceTek's reputation for working closely with clients to discover and develop end – to end IT solutions, Virtual Advisor sought out the AllianceTek team to help create their e-learning platform. AllianceTek listened closely to what Virtual Advisor wanted to achieve with their platform and how it would be used to educate financial institutions in workshops. Usability was a high priority in the design for this reason, AllianceTek created an interactive menu bar that allows users to easily navigate to any part of the tutorial, pause, and manage sound options. Users can easily upload and download forms and worksheets and access a glossary of terms.
Implementation
AllianceTek's solution manifested as a robust flash-based presentation platform with interactive tutorials for entrepreneurs. The platform was created using Flash, HTML, and XML technologies that included interactive features, multilingual workshops and multi-user communication systems and the use of multimedia tools, such as images, video, sound, and interactive features, made the platform a highly effective learning tool.
Result
As a result, business lessons were developed for the e-learning platform with enhanced features like multiple language support i.e. English and Spanish, voice synchronization for flash, podcasts, quizzes, graphical interactive forums, news and announcement. The e-learning presentations contained many interactive elements but remained easy for the end user to manipulate. Virtual Advisor's clients found the platform very helpful in educating their staff on a variety of important subjects. With the first iteration of the platform a success, Virtual Advisors went on to use AllianceTek's e-learning platform in the healthcare industry.
Social Media
Why AllianceTek?
As an IT partner and solutions provider, AllianceTek will help you follow your objective and implement strategies that are unique to your business to see it through to completion – we don't just follow instructions, we unleash the full potential of your vision. AllianceTek employs a global team of more than 100 skilled developers and consultants who approach every project holistically, giving full around-the-clock attention to understanding our clients' needs and providing comprehensive, scalable and extensible development roadmaps.

Your inquiry is submitting. Please wait for a while…