Case Studies
Mobile Pocket guide for technical consultants
Technical Consultants, Inc. is a consulting corporation located in Longboat Key, FL that specializes in geometric dimensioning and tolerancing. Geometric dimensioning and tolerancing (GeoTol) is used by machinists and manufacturers to define the nominal geometry of parts and assemblies, the allowable variations in form and possible size of individual features, and the allowable variations between features. Technical Consultants provides consulting and training on GeoTol.
Challenges
Technical Consultants provides GeoTol training to clients through online classes, training DVDs, and do-it-yourself courses. They wanted to enhance their training courses by developing a mobile application that provides a digital reference guide for their "Geometric Tolerancing Pro Fundamentals Program" – an in-depth study designed to teach a basic working knowledge in GeoTol. Through a mobilized training program, students would have easier access to training while on the move.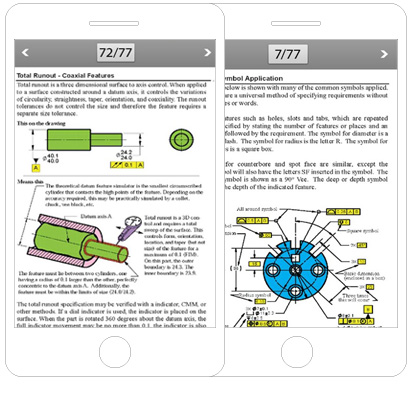 We had an idea for a smartphone app that would function as an e-reader for one of our products, but were unsure how to proceed. I spoke with Sunil from AllianceTek and he encouraged me to do the app by laying the groundwork for the project and giving me a good price. Development was incredibly smooth. AllianceTek was very flexible and easy to work with. Everyone was right on top of everything. When changes were needed, AllianceTek made them right away. We just uploaded our new application and are excited to start marketing it. We will certainly use AllianceTek again for our next project.
- Al Neumann
Technical Consultants Inc.
Solutions
Technical Consultants sought the assistance of AllianceTek, a software solutions company with experience in mobile solutions and designing online training courses. Technical Consultants wanted AllianceTek to provide an end-to-end solution to mobilize their GeoTol training program. AllianceTek evaluated the technical requirements and developed a comprehensive cross-platform mobile application to be used as a "Pocket Guide" for users.
Implementation
The new mobile Pocket Guide implements enhanced navigation through a comprehensive, easy-to-use table of contents. Users can click on the topic of their choice to be directed to a page with detailed instructions and information. The new features of the mobile Pocket Guide also include a home page that guides users through all the options, an "about" screen, a "company" screen, an interactive index, and enhanced navigation controls.
Result
As a result of AllianceTek's new Pocket Guide, Technical Consultants has an enhanced, cross-platform, mobile training program with simple user features and navigation. Users can access information they need on the go with one-tap solutions from their mobile devices. The enhanced accessibility, usability, speed, and reliability of the mobile Pocket Guide makes user training easier and more effective. Technical Consultants is now in a position to better serve their clients by delivering enhanced learning programs and reference materials.
Social Media
Similar Projects
Why AllianceTek?
As an IT partner and solutions provider, AllianceTek will help you follow your objective and implement strategies that are unique to your business to see it through to completion – we don't just follow instructions, we unleash the full potential of your vision. AllianceTek employs a global team of more than 100 skilled developers and consultants who approach every project holistically, giving full around-the-clock attention to understanding our clients' needs and providing comprehensive, scalable and extensible development roadmaps.

Your inquiry is submitting. Please wait for a while…