Case Studies
Business Intelligence Intranet System
AllianceTek's client, founded by a trusted fuel management expert, is a nationwide outsourced fuel management and fuel consulting company dedicated to providing fleet management solutions to its clients with lower diesel fuel prices and gas prices. The company serves a broad range of fleet clients, from small private trucking companies to Fortune 500 companies that all need fleet fuel management to lower their diesel fuel prices. They survey the fleet fuel market, negotiate diesel fuel prices, analyze fuel practices and develop money-saving fuel strategies to deliver comprehensive fuel management programs that improve their clients' bottom line.
Challenges
In order to provide their clients with the best money-saving fuel strategies, this company commits much of its time and resources to finding, collecting, calculating and analyzing data from multiple sources. Top fuel card companies like Shell, FuelMan, Olympian, Check, CFS, FleetOne, and EFS, must have their transaction data imported. The company monitors fuel price fluctuations and negotiates fuel prices on a daily basis and identifies cost saved for their client companies. These processes require several calculations and data integration from third party companies in the form of xls files. They wanted to automate and unify their xls files to generate automatic fuel-cost saving reports for their clients.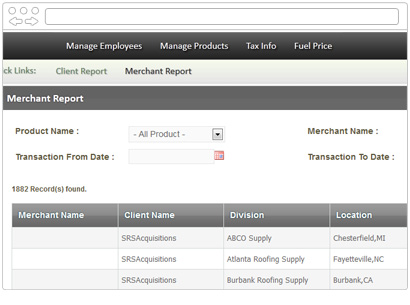 AllianceTek was very efficient and fast in providing me the application I needed for a project I was working on. They beat the cost of every other developer that had applied for the job and finished the job ahead of schedule. I would gladly do work with them again!"
- Alexander Feng
Mountain View, CA
Solutions
AllianceTek first analyzed the company's business operations to understand its objectives, requirements, and challenges. AllianceTek then proposed an enhanced Business Intelligence System that will improve the business decision making process with precise data mining capabilities.

The system stores historical pricing and fuel usage data on the platform, where it can later be mined to understand future trends and provide value-added services. The solution automatically imports fuel prices and fuel card transactions from the company's clients into the system, with no manual entries required. Based on prices and transactions, along with earlier data showing the previous costs of fuel, the system will then generate a report that shows comparative analysis between current fuel savings and those prior to this company's service.
Implementation
An Intranet application was developed using the latest .NET technologies with MVC architecture, AJAX, and SQL Server 2008 installed on a highly configured web server, with XML used for unifying data. AllianceTek worked with this company on implementing a solution that would be simple to use and integrate seamlessly with their existing operations. The solution included features like client and employee management, fuel prices and order management, tax info, fuel card transaction management, automated alerts and dynamic BI reporting.
Result
The workload of collecting, analyzing, and reporting data was reduced by automating those previously manual tasks with AllianceTek's solution. The BI solution quickly generates reports on the fly, while process automation enables employees to make informed decisions at the right time. Not only does this new system free up valuable resources, it also enables the client to provide better service to their clients. Using the system, the company can submit quick reports to their clients. These custom reports show fuel costs saved by division, location, date range and merchant, and also indicate whether the savings were on diesel fuel or gasoline.

AllianceTek provided an innovative end-to-end solution that included scoping, requirement definitions, application development, testing, application deployment, maintenance, support and hosting. Our solution improved the client's system's performance, accessibility, usability and security.
Social Media
Similar Projects
Why AllianceTek?
As an IT partner and solutions provider, AllianceTek will help you follow your objective and implement strategies that are unique to your business to see it through to completion – we don't just follow instructions, we unleash the full potential of your vision. AllianceTek employs a global team of more than 100 skilled developers and consultants who approach every project holistically, giving full around-the-clock attention to understanding our clients' needs and providing comprehensive, scalable and extensible development roadmaps.

Your inquiry is submitting. Please wait for a while…