Case Studies
Virtual Sports Betting on Facebook
The client, a startup company that provides online community services and social media marketing. offers services on social media sites and communities and assists users with innovative and entrepreneurial concepts.
Challenges
The client needed a technology partner to implement an entrepreneurial concept for social media communities. They wanted to develop a new application for the Facebook community that would enable users to earn and bet virtual currency on global sporting events.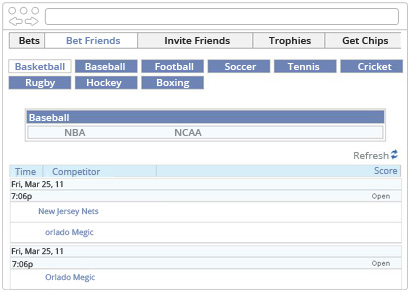 AllianceTek was the major difference in our project getting completed and our company growing into the automated system it is today. The level of service you receive starts right from the owner himself down through his levels of staff and implementation specialists regardless of their location worldwide. AllianceTek has become our technology and implementation partner and we highly recommend their service to any company small or large who is looking for timely, active and effective implementations. Thank you AllianceTek.

- Mark Johnston
(CEO)

Toronto, ON Canada
Solutions
The client sought AllianceTek, with experience in developing innovative applications for startups, as their technology partner. We set out to discover the requirements of the social media company's idea for an app and designed a new web-based application that fit their specifications. The application was designed to allow members of the Facebook community to earn virtual points, or electronic chips.
Implementation
AllianceTek designed the application using ASP.NET, SQL Server 2005, HTML, XML, and the Facebook Frameworks FBML and FBJS. The application was integrated to accommodate live third-party data feeds for real-time scores and betting lines for global sporting events. Our methods facilitated seamless integration with Facebook's existing community sites and interaction tools in order to create teams, rooms, and electronic chips. Users can bet with their virtual currency and the application calculates the winning and losing bets to allocate the appropriate return.
Result
As a result of partnering with AllianceTek, the client received an enhanced and comprehensive Facebook application for virtual betting on real global sporting events. The user-friend interface and Facebook integration features encouraged site activity and membership growth. This enabled the social media company to tap new revenue channels and grow their business with a new and reliable customer base.
Social Media
Similar Projects
Why AllianceTek?
As an IT partner and solutions provider, AllianceTek will help you follow your objective and implement strategies that are unique to your business to see it through to completion – we don't just follow instructions, we unleash the full potential of your vision. AllianceTek employs a global team of more than 100 skilled developers and consultants who approach every project holistically, giving full around-the-clock attention to understanding our clients' needs and providing comprehensive, scalable and extensible development roadmaps.

Your inquiry is submitting. Please wait for a while…