Case Studies
Web and Mobile application built on MVC architecture
SHEL Communications is located in Sacramento, CA, and develops web and mobile products for the alcoholic beverage industry. Their mission is to connect people who enjoy alcoholic beverages through interactive technology to achieve a unifying social experience.
Challenges
SHEL wanted to create a social networking experience that allows consumers of alcoholic beverages to review and recommend different products. However, SHEL did not have an adequate or uniform database that could accommodate their upcoming application. SHEL needed a new comprehensive database for their application that could contain millions of products along with reviews and other relevant data, including images, ratings and other details about specific beverages. The database needed to be compatible with the application's modules, including geo-location, multimedia, and augmented reality.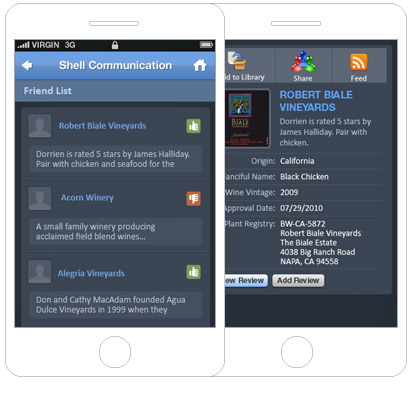 A great development team who consistently proved their knowledge. I'd highly recommend working with AllianceTek and look forward to working with them in the future.
- Oliver Bolland
Domestic Blizz
London, England
Solutions
SHEL sought the assistance of AllianceTek, a software solutions company with expertise in providing end-to-end solutions. AllianceTek designed and developed a comprehensive database capable of containing millions of products and details, such as producer name and contact details, brand name, alcohol content, vintage, age, appellation and more. The database integrated seamlessly with SHEL's upcoming application, allowing users to view and share product information and reviews for different beverages including wines, beers, spirits and more.
Implementation
AllianceTek designed the database to retrieve and store beverage details from the source website through an enhanced HTML scraping method. AllianceTek then organized this raw data into a relational database through RDBMS and applied SOA architecture. This enabled us to seamlessly integrate the database with any platform and implement advanced search and maintenance functions.

The database features enhanced, innovative, and ready-to-use features like scheduling – which allows SHEL to schedule when the application will start querying the source website – a web interface to view the data or tools to start processes, add/update/view/search records, and review moderation. AllianceTek provided the option to manage and maintain the database on an ongoing basis, including incremental updates and accommodating any changes to the source website.
Result
As a result of working with AllianceTek, SHEL now has an enhanced, independent, and secure data warehousing solution that can quickly and accurately retrieve and store beverage details from their source website. This gave SHEL a new opportunity to develop their upcoming application with their existing database integration and ultimately enhance the features and usability of their social networking experience.
Social Media
Similar Projects
Why AllianceTek?
As an IT partner and solutions provider, AllianceTek will help you follow your objective and implement strategies that are unique to your business to see it through to completion – we don't just follow instructions, we unleash the full potential of your vision. AllianceTek employs a global team of more than 100 skilled developers and consultants who approach every project holistically, giving full around-the-clock attention to understanding our clients' needs and providing comprehensive, scalable and extensible development roadmaps.

Your inquiry is submitting. Please wait for a while…