Case Studies
Salesforce Marketing and Sales Automation
AllianceTek's client, an investment banking firm that's regulated and authorized by the Financial Services Advisory and a member of NYSE Euronext, is involved in corporate financial advisory services such as fundraising, mergers and acquisitions, and management buy-outs. They had been using the SalesForce CRM application to maintain their lead and contact database, and relying on the mass emailing feature to contact their prospective clients.
Challenges
They were facing various limitations in their CRM system, which resulted in a large amount of duplicate data, and difficulty in tracking prospect and campaign information. These limitations, as well as issues in visibility and access control, prompted them to seek AllianceTek's assistance to implement user interface changes for more intuitive system navigation, changes in the data model to meet their reporting requirements, and additional features to assist in communication, scheduling and reduce manual tasks.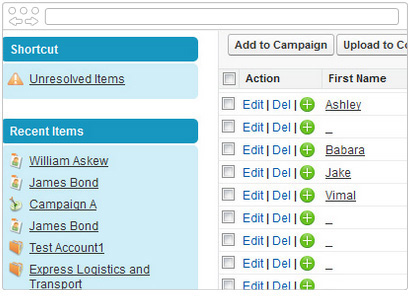 These guys did a tremendous job. I will definitely work with them again. They communicate quickly, respond to feedback and have great expertise.
- Reggie Brown
Kirkland, WA
Solutions
AllianceTek developed a custom Agenda application that allows users to schedule conference calls and physical appointments with their prospects. The new system also allows management to view key information such as number of emails sent by specific users, number of conference calls generated during a campaign, number of appointments scheduled after each conference call, and number of positive responses to a given campaign. Management can view these reports through a sales and marketing dashboard without having to log into the application, and gain valuable business insights through the more organized, user-friendly system.
Implementation
AllianceTek is a leading IT solutions and software development company that provides end-to-end services to our clients. We convert ideas to a complete solution, starting from analysis and working our way through concept design, development, testing, deployment and training. Our custom solutions empower our clients to achieve their visions and objectives, and leverage them with the right technology at a reduced cost with AllianceTek's multi-team collaboration and hybrid development model.

To start, we consulted with the client to learn the ins and outs of their business needs and infrastructure, and built a demo for them with UX changes and advanced reporting capabilities. Following the client's approval, we continued to build on the framework, reducing the storage requirements and using SalesForce's summary and matrix report features to meet their reporting needs. Using data processing, backups and running scripts on their application, we de-duplicated their data and cleaned their repeated records without loss of related information.
Result
As a result of AllianceTek's CRM application solution with SalesForce, the client now has a comprehensive prospect and customer database that reduces the complexity of their processes and makes it easier to locate and analyze essential business information. Users can communicate more easily through the system, while management has a full view of sales and marketing statistics, allowing increased insights into prospect information and likelihood of closing a deal. Their new SalesForce application has a more professional look and feel, with dynamic dashboards and reporting capabilities that work in sync with their pre-existing business processes and allow the client to achieve the highest possible ROI.
Social Media
Similar Projects
Why AllianceTek?
As an IT partner and solutions provider, AllianceTek will help you follow your objective and implement strategies that are unique to your business to see it through to completion – we don't just follow instructions, we unleash the full potential of your vision. AllianceTek employs a global team of more than 100 skilled developers and consultants who approach every project holistically, giving full around-the-clock attention to understanding our clients' needs and providing comprehensive, scalable and extensible development roadmaps.

Your inquiry is submitting. Please wait for a while…