Case Studies
Salesforce Integration with Improved Workflow
A company that hosts the first telehealth platform built specifically for businesses provides their customers with 24/7 Doctors-by-Phone services, medical bill negotiation, discount health services and more. Through their unique time and money saving services, they provide their customers with an improved healthcare experience.
Challenges
The client had been storing all of their Salesforce subscriber information in an online database hosted by MDLIVE. Without integration between their Salesforce system and the MDLIVE database, they had to manually retrieve .csv files from SalesForce to be stored in the other system – this was a time-consuming process. They needed a way to connect SalesForce with MDLIVE in order to automate their processes for improved efficiency, easier management and streamlined customer services.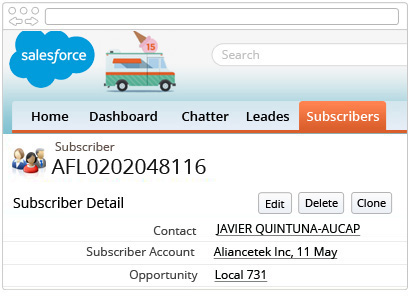 Solutions
AllianceTek, a technology solutions partner, assessed the client's business needs and proposed a solution that would enhance their existing Salesforce account and integrate it with MDLIVE's database. The solution would ensure seamless communication between the two systems, so updates made in one would automatically be reflected in the other, reducing time and resources spent on storing and accessing data.
Implementation
AllianceTek employed a dedicated team to work with the client on an ongoing basis. The team worked closely with the client to define their processes in such a way that they are repeatable, scalable and manageable within SalesForce. We integrated SalesForce with MDLIVE to fetch patient records and incorporated APIs. We also configured the system with workflows, triggers, classes and object models, and provided customization and support API between SalesForce and MDLIVE.
Result
Before AllianceTek's solution, the client's SalesForce account with MDLIVE's database, the information stored in each system was disorganized and not always accurate. As a result they faced difficulties recording subscriber information and effectively processing requests. Now, with full integration between the two systems, information is automatically shared between the two systems without any discrepancy. The client can generate reports based on that information and use the data through SalesForce without having to manually switch between the two systems.
Social Media
Similar Projects
The AllianceTek team did an outstanding job delivering the project. They went out of their way to make sure the project was to our needs with both design and function. We will be using them for many more projects.
- Jason Oxios
(CTO)
Loco Media Group
Phoenix, AZ
Let's Discuss


Your Project
Discover
Why AllianceTek?
As an IT partner and solutions provider, AllianceTek will help you follow your objective and implement strategies that are unique to your business to see it through to completion – we don't just follow instructions, we unleash the full potential of your vision. AllianceTek employs a global team of more than 100 skilled developers and consultants who approach every project holistically, giving full around-the-clock attention to understanding our clients' needs and providing comprehensive, scalable and extensible development roadmaps.
Know more »