Case Studies
Intranet-based Calyx Point Integration
A full-service mortgage firm, located in Pennsylvania, wanted to keep their clients informed on the latest mortgage trends so they can make informed decisions regarding their mortgage. They offer specialized services to assist clients in purchasing or refinancing property in today's rapidly changing market.
Challenges
Since the company has undergone major growth and process changes, the management required to process each loan file has becoming increasingly difficult. The company had been using an existing Calyx System to process all of their loans, and a new management system was needed to meet the growing demands of their business and enable their employees and management to be proactive about closing loans and to work effectively with their clients and vendors to obtain loans.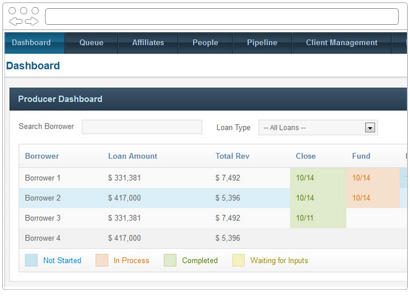 The AllianceTek team did an outstanding job delivering the project. They went out of their way to make sure the project was to our needs with both design and function. We will be using them for many more projects.
- Jason Oxios
(CTO)
Loco Media Group
Phoenix, AZ
Solutions
They sought the assistance of AllianceTek, a software and business solutions company that understands how to leverage technology to integrate with business solutions. AllianceTek has experience in designing large and complex management systems, and built a comprehensive and innovative intranet- based portal that provides great visibility and tracking capabilities for current loans in the pipeline. The solution would include supplementing their existing system with enhanced features, such as employee management, affiliate management, client management, loan management, a master document checklist with checklist templates, automated email alerts and notifications, and a deadline generator.
Implementation
The solution was designed to achieve a completely automated loan process. The Master Document checklist triggers an alert if a client's photos or other mandatory documents are missing, automatic notifications are sent for loan dues, current loans in the pipeline are tracked automatically, and a deadline generator provides automatic notifications for due dates and outstanding loans. The solution includes other enhanced features, such as correspondent logs, process views, a tracking history of changes, and enhanced reporting. An automated job can be set to pull data from the Calyx System and import it into the new portal solution, which uses MS Windows Service and Scheduler for automatic synchronization of loan files from the Calyx System to populate the new system with loan files processed by the mortgage company.
Result
As a result of AllianceTek's solution, their employees and management are now proactive in closing loans, and to work with their clients and vendors to obtain loans. The company's management can monitor the loan process and ensure their clients that their accounts are being managed effectively. This increased the company's overall communications, efficiency, productivity, operational speed, and reliability through AllianceTek's automated and secure solution.
Social Media
Similar Projects
Why AllianceTek?
As an IT partner and solutions provider, AllianceTek will help you follow your objective and implement strategies that are unique to your business to see it through to completion – we don't just follow instructions, we unleash the full potential of your vision. AllianceTek employs a global team of more than 100 skilled developers and consultants who approach every project holistically, giving full around-the-clock attention to understanding our clients' needs and providing comprehensive, scalable and extensible development roadmaps.

Your inquiry is submitting. Please wait for a while…