Case Studies
Customized PDF Portfolio Generation
Reliance Standard Life Insurance Company, a member of the Tokio Marine Holding Group, provides insurance products and services in almost every state, as well as in the District of Columbia and the U.S. Virgin Islands. As a leading insurance carrier, Reliance Standard specializes in innovative and flexible employee benefits solutions, including disability income and group term life insurance, a suite of voluntary coverage options, and fully integrated absence management.
Challenges
To grow their business, Reliance Standard sends potential clients portfolios of their fixed rate annuity products and employee benefit solutions. However, since these PDF portfolios are tailor-made for each potential client, creating them takes an excessive amount of time and resources. Reliance Standard needed a solution that could automatically create individualized PDF portfolios.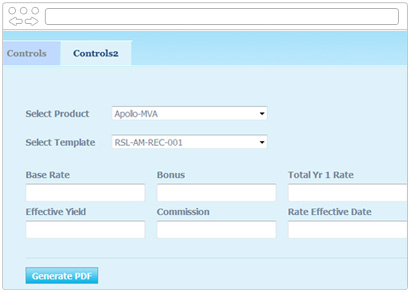 AllianceTek has been a great partner for us in advancing our online functionality and communications. Their stateside and global development teams work together seamlessly and our account team has consistently been very responsive. We believe the inherent value in AllianceTek's service and development model is a key advantage for us and our offline content management platform, which they built and continue to evolve, is a testament to our mutual success.
- Heather Alessi
(Marketing Communication Specialist)
Reliance Standard Life Insurance Co.
Solutions
Reliance Standard turned to AllianceTek, a technology services company that specializes in technology-based business solutions, for assistance. After carefully studying Reliance Standard's current needs and processes for creating and sending client portfolios, AllianceTek saw an opportunity in their business workflow to save time by building an application that automatically composes PDF portfolios based on user input. The solution enables Reliance Standard to simply make a few selections on a form, and in one click, create the personalized client portfolios to be sent to potential clients.
Implementation
AllianceTek used ASP.NET and MS SQL to implement the solution. Because the overall goal was to reduce time consumption and employee overhead, the application was designed with accessibility and usability in mind. This one-click solution enables Reliance Standard's employees to create tailored PDF portfolios according to individual client needs without any manual searching. Users can still edit the files directly and inputs can be sent to clients easily through a completely automated process.
Result
The resulting application greatly reduced the time required for Reliance Standard to compose and send client portfolio PDFs. Since using the new solution, Reliance Standard has witnessed a marked increase in their clientele, due to the fact that they are better able to inform their potential clients about every aspect of their insurance policies. By acquiring AllianceTek as a business solutions partner, Reliance Standard was able to use our innovative solution to increase their ROI and save valuable resources.
Social Media
Similar Projects
Why AllianceTek?
As an IT partner and solutions provider, AllianceTek will help you follow your objective and implement strategies that are unique to your business to see it through to completion – we don't just follow instructions, we unleash the full potential of your vision. AllianceTek employs a global team of more than 100 skilled developers and consultants who approach every project holistically, giving full around-the-clock attention to understanding our clients' needs and providing comprehensive, scalable and extensible development roadmaps.

Your inquiry is submitting. Please wait for a while…