Case Studies
Textile ERP Solution
A client that owns a large textile company with separate locations spread throughout their state sought AllianceTek's help in developing a system to manage and plan their resources from a single, easy-to-use location.
Challenges
The textile company lacked a central repository of key information, and their inability to access the right information when it was needed resulted in slowed decision-making and prolonged procedures. Without an organized database, they were unable to track past records, which made it difficult to provide customers with accurate cost estimates. Their inability to tap into key information like production costs, material usage and waste, and interplant stock management caused delays at every step, draining resources and consuming time. They needed a way to keep all of their information organized and to track it efficiently.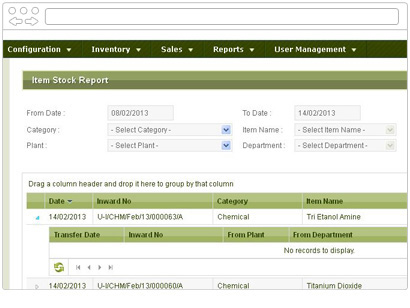 AllianceTek is fantastic to work with. They are a team of true professionals. You will become friends with the people at AllianceTek. Not only do I recommend them for your projects, but I am going to use them again. They know what they are doing, they give suggestions, and anticipate potential issues. I am so happy to have crossed paths with this fine group of professionals.
- Alex Ghatan
(President)
Skyline Property Group Inc.
Atlanta, GA
Solutions
The client sought AllianceTek's help to develop an end-to-end solution that would allow users to track the use of materials, and store and access data from a single location. AllianceTek utilized the latest technology to create a dynamic Enterprise Resource Planning (ERP) system, a custom solution that administers the entire business process from a single web-based point.
Implementation
AllianceTek's dedicated team worked directly with the client in addressing and solving the issues they were facing. The ERP system AllianceTek developed facilitates quick response times to inquiries and allows the complete tracking of material throughout the textile manufacturing process, including wastage and elongation.

The system includes dynamic modules such as dashboards, data analysis and reporting to obtain key information, including RG1 and Form4 reports, and an established approval chain that provides senior management with key information throughout the process. The new system makes it easy to manage multiple plants from a single location.

The system keeps a full, up-to-date record of inventory and sends out auto-alerts when stock needs to be re-ordered. Email alerts and SMS notifications keep users updated on new developments while material wastage management provides the ability to keep track of material once a work order is processed.

AllianceTek's fast-acting team provided the client with everything they were looking for and considered every possibility to implement the best solution for the client.
Result
The client wanted a way to track key information from multiple plant sites throughout the manufacturing and sales process, and AllianceTek's ERP system gave them the ability to do just that. The solution opened the door for better management and improved the company's ROI.

The ability to manage every plant from a single system resulted in improved project coordination and enhanced collaboration for quicker and more accurate analysis and decision-making. Throughout the process senior management remains informed and aware of any developments. Due to the easy availability of data, responses to inquiries can be delivered faster with more accurate information, resulting in higher customer satisfaction and confidence. Dashboards and reports make it easy for management to track KPIs while the dynamic pricing management system makes calculating prices and taxes much easier. Furthermore, material wastage and elongation can be tracked within the system to allow the quick resale of excess material, resulting in increased revenue.
Social Media
Similar Projects
Why AllianceTek?
As an IT partner and solutions provider, AllianceTek will help you follow your objective and implement strategies that are unique to your business to see it through to completion – we don't just follow instructions, we unleash the full potential of your vision. AllianceTek employs a global team of more than 100 skilled developers and consultants who approach every project holistically, giving full around-the-clock attention to understanding our clients' needs and providing comprehensive, scalable and extensible development roadmaps.

Your inquiry is submitting. Please wait for a while…