Case Studies
Real-time IT Infrastructure Information System
Our client is a comprehensive IT management company specializing in documenting and visually managing all enterprise assets, critical infrastructure and interconnectivity between systems, networks, users, locations and services. Their comprehensive Configuration Management System consolidates an organization's IT/Telecom network assets and connectivity in one repository. Their services provide the insights necessary to maintain critical operations and create a more complete visual picture of an enterprise IT network environment.
Challenges
The client had an existing application for organizing the site and infrastructure architectural design along with related information for their client companies. However, they required several improvements in order to maintain a quality service for their growing number of clients. One issue they faced was that their application was not accessible on all mobile devices. The interface was cumbersome and not user-friendly, which created several system hiccups and delays. The collected information needed to be stored back to the database in the form of a PDF for further action. In addition, they needed new administrative features to manage data and user profile information.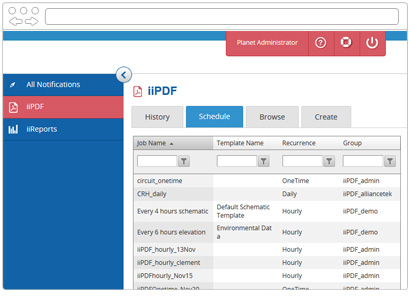 AllianceTek was great -- I'm not a software developer, so a lot of times they had to translate our desired functionality into SF-speak, but they did it quite well. The support was extraordinary, and they took pains to make sure that our product worked well. Very thankful to them and our client representative.
- Will Brown
(Multimedia Director)
JBI Studios
Canoga Park, CA
Solutions
The client sought the assistance of AllianceTek, a software and IT solutions company that specializes in developing custom solutions that meet the unique needs of a business. AllianceTek carefully studied the challenges of the company and listened to their issues and requirements. One requirement was for AllianceTek to redesign the application without altering the existing code or logic.

AllianceTek transformed the existing web-based application into a responsive design application and implemented a new design without changing the existing logic or code.

The redesigned application has a number of new features that increase control, usability, scalability and business intelligence. It enables users to generate mapping, flooring and architectural layout design, along with related information, in a PDF format that the system automatically archives after a period of time. Users can also share this information through social networks. In addition, a new customized dashboard allows much easier use of the application on all devices, anywhere and anytime, while a scheduler form and internal scheduler feature help manage jobs and historical data related to the jobs with the facility to look up relevant information.
Implementation
AllianceTek's offshore and onshore teams collaborated to develop the redesign using HTML5 and jQuery, giving users the ability to view and access the application on Windows, Blackberry, Android and tablets. The custom designed dashboard and interface was placed in both tabular and grid view with an expandable and collapsible function that can feature all the desired information on a single page. This provided a new, customized user-friendly interface that facilitates users with ease to upload archived data information. The administrative functions allow users to view, delete, schedule, regenerate and share all generated PDFs, edit and update profile information related to the user and manage a specific job's schedule.
Result
AllianceTek's custom solution allowed the client to achieve their vision and reach their objectives by leveraging technology that fit their business structure and improved processes. We delivered a real-time information system that generates various layout designs in PDF. The system is easy to use and can be accessed from any location. As a result, the client's Business Intelligence became more flexible and scalable, allowing them to make better, more informed decisions with reliable information. AllianceTek met the requirement of evolving the previous system's design using the client's existing logic to provide a full, user-friendly interface with an intuitive layout and modules that are easy to navigate.
Social Media
Similar Projects
Why AllianceTek?
As an IT partner and solutions provider, AllianceTek will help you follow your objective and implement strategies that are unique to your business to see it through to completion – we don't just follow instructions, we unleash the full potential of your vision. AllianceTek employs a global team of more than 100 skilled developers and consultants who approach every project holistically, giving full around-the-clock attention to understanding our clients' needs and providing comprehensive, scalable and extensible development roadmaps.

Your inquiry is submitting. Please wait for a while…