Case Studies
Remote File Transfer Application
The client AllianceTek assisted in this project develops proprietary Electronic Document Management Systems based on Microsoft's SharePoint software platform. These systems are used by various agencies across the state to track and store electronic documents.
Challenges
The proprietary EDM system is currently used by agencies across the USA. Agencies need to transfer files and documents within counties, but their process was being done manually, which consumed time and slowed business. The client needed to automate and simplify this process, and required an optimum solution to transfer files electronically.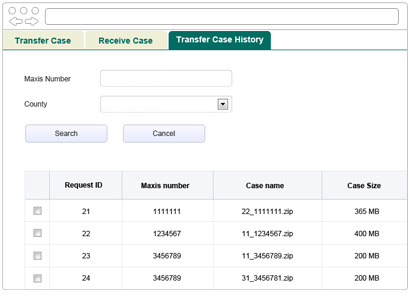 AllianceTek was very efficient and fast in providing me the application I needed for a project I was working on. They beat the cost of every other developer that had applied for the job and finished the job ahead of schedule. I would gladly do work with them again!"
- Alexander Feng
Mountain View, CA
Solutions
The client sought the assistance of AllianceTek, an IT solutions and software development company with experience in developing SharePoint solutions – which the original system was based upon. After learning about the client's requirements, AllianceTek determined that a desktop-based application and a SharePoint component were needed to transfer files from one shared SharePoint application to another. The solution also included a complete log of file transfers and automated notifications.
Implementation
AllianceTek's primary concern was to develop a desktop application that would allow files to be transferred quickly and easily. After experimenting with various file transfer methods, such as byte transfer and steam transfer, AllianceTek settled on the FTP file transfer method, which enables the transfer of files of up to 1 GB in size. The application AllianceTek developed employs different web services and transfers files seamlessly with strong and reliable firewall settings in place. We also developed a new user-friendly interface to help the client's team quickly acclimate to the new system.

In accordance with the client's additional requirements, we also implemented SharePoint-based file transfer capabilities. This offers the ability to transfer files effortlessly from one SharePoint application to another.
Result
As a result of working with AllianceTek, the client now has a robust file transfer solution that allows the rapid transfer of large files to the selected county locations from their desktop and SharePoint application. Finally, the new system facilitates automated notifications upon transferring files, and even offers maintenance of file transfer history between the counties. The client has benefited tremendously with this dynamic solution, eliminating the hassles of manual file transfer while increasing speed and efficiency in their daily processes.
Social Media
Similar Projects
Why AllianceTek?
As an IT partner and solutions provider, AllianceTek will help you follow your objective and implement strategies that are unique to your business to see it through to completion – we don't just follow instructions, we unleash the full potential of your vision. AllianceTek employs a global team of more than 100 skilled developers and consultants who approach every project holistically, giving full around-the-clock attention to understanding our clients' needs and providing comprehensive, scalable and extensible development roadmaps.

Your inquiry is submitting. Please wait for a while…