Case Studies
SharePoint Purchasing System Portal
By using a revolutionary structural technology to create longer, lighter, and more reliable wind turbine blades, Modular Wind Energy enables their wind turbine manufacturing customers to offer wind generation at a lower cost. Modular's first prototypes were installed in 2012.
Challenges
Because their database was fragmented and used multiple vendors and accounting systems, their purchasing process was complex and difficult to navigate. Modular needed a solution that integrated with their existing systems and databases, while simplifying the purchasing process. It needed to enable purchase approvals based on users' roles and access rights, as well as provide collaboration tools to unify the organization.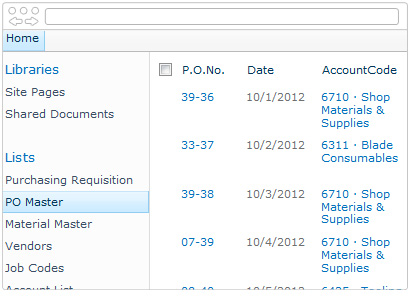 AllianceTek developed an iPad app for us within a short frame of time and went above and beyond to deliver what we wanted. Would highly recommend to anyone looking to develop easy to use, professional quality apps. Thanks for a job well done!
- Shilpa Bisaria
(Senior Associate)
Innosight
Singapore
Solutions
After evaluating Modular's organizational architecture and purchasing process, AllianceTek designed a solution to improve the user experience, as well as enhance collaboration and security.

Features of the system include:
Vendor information
Job codes and categories
Permission levels based on user roles
Account lists, categories and shipping locations
Material types
Material masters
Purchasing requisitions
Purchase-order masters
AllianceTek created an end-to-end solution that involved initial scoping, requirement definitions, development, deployment, maintenance, support, and hosting.
Implementation
AllianceTek created the solution as an integrated SharePoint application, so that all purchase request data can be housed within SharePoint and accessed from a single location. This allows purchase requests to be routed and approved based on employees' assigned roles and access rights. It makes account codes available with the purchasing request and integrates the vendor, purchase-order and bill-of-material databases.

AllianceTek completed the development on the Foundation version of the SharePoint Server and deployed it on Modular's SharePoint server.
Result
Modular Wind Energy now has a SharePoint portal that reduces complexity, manages data, and fully integrates with their existing systems. This allows Modular Wind Energy to improve the user experience while achieving a positive return on investment.
Social Media
Similar Projects
Why AllianceTek?
As an IT partner and solutions provider, AllianceTek will help you follow your objective and implement strategies that are unique to your business to see it through to completion – we don't just follow instructions, we unleash the full potential of your vision. AllianceTek employs a global team of more than 100 skilled developers and consultants who approach every project holistically, giving full around-the-clock attention to understanding our clients' needs and providing comprehensive, scalable and extensible development roadmaps.

Your inquiry is submitting. Please wait for a while…