Case Studies
Customized content management solution
MedicalLogix is the oldest and largest organization devoted to the research of medicine, medical science, and clinical practice. As one of the most active organizations in the field, MedicalLogix is directly responsible for advancing the science of medicine by discovering new medical breakthroughs and sharing this knowledge with other health institutions.
Challenges
As technology advances, MedicalLogix continues to seek new ways to leverage technology to benefit their goals of researching and educating the medical community. In particular, MedicalLogix needed a solution that would allow them to upload and update dynamic content online. MedicalLogix had amassed a large library of creative content and needed a way to implement this content and share it with their users. They wanted to create workshops that allow end users to study and evaluate themselves. Members and advisors could then review and analyze this evaluation.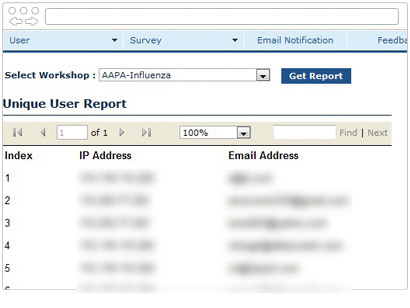 AllianceTek was the major difference in our project getting completed and our company growing into the automated system it is today. The level of service you receive starts right from the owner himself down through his levels of staff and implementation specialists regardless of their location worldwide. AllianceTek has become our technology and implementation partner and we highly recommend their service to any company small or large who is looking for timely, active and effective implementations. Thank you AllianceTek.

- Mark Johnston
(CEO)

Toronto, ON Canada
Solutions
MedicalLogix sought assistance from AllianceTek, an IT solutions company with a reputation for discovering and implementing precise business solutions for unique IT challenges. AllianceTek listened closely to MedicalLogix's needs and carefully composed a list of requirements to address healthcare e-learning challenges for content delivery, evaluation, tracking and reviews with graphs and complete reporting.

Then, AllianceTek developed a robust solution that would solve the challenges posed by MedicalLogix. The form of the solution was a new CMS-based website for content, review and clinical dialogues that featured a custom e-learning platform. The solution includes video streaming, downloadable transcripts, podcast subscriptions, online posttests, custom landing pages and other components that leverage technology to promote communication and understanding.
Implementation
AllianceTek used C# and ASP.NET to develop the front end of the platform. The back end is managed by SQL Server 2005. Usability was the primary concern for MedicalLogix, so AllianceTek took great care to develop an administrative panel that provides reports for a number of workshops using a robust and scalable architecture. Users can update content from a single XML file. The admin panel allows MedicalLogix to keep track of user logs, like pages visited, content worked on and podcast subscriptions, as well as easily view and track user-submitted input through the interactive website and e-learning platform.
Result
Managing content is easier than ever before with AllianceTek's robust, customized solution. As a result of implementing the new solution, MedicalLogix is better able to connect with medical experts and share their research and discoveries with the medical community through podcasts and social media. Customized medical lectures using an audio-visual medium enhance the learning process and are available not just to workshop attendants but anyone who is able to visit the site online. By minimizing the time spent handling the technological aspects, MedicalLogix has been able to apply its expertise where it is used best – on breakthrough research in the field of medicine.
Social Media
Similar Projects
Why AllianceTek?
As an IT partner and solutions provider, AllianceTek will help you follow your objective and implement strategies that are unique to your business to see it through to completion – we don't just follow instructions, we unleash the full potential of your vision. AllianceTek employs a global team of more than 100 skilled developers and consultants who approach every project holistically, giving full around-the-clock attention to understanding our clients' needs and providing comprehensive, scalable and extensible development roadmaps.

Your inquiry is submitting. Please wait for a while…