Case Studies
HTML 5 powered video player
Lexvid, Inc. is a California-based provider of free continuing legal education programs accredited by various state agencies. Their website hosts videos and discussion forums used to educate and share information about the law and the legal profession.
Challenges
Lexvid's website features educational legal videos, but they lacked several important features and could only be viewed on devices that support Flash. Lexvid needed a new media player to improve usability and accessibility.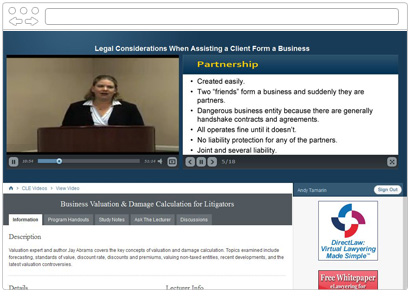 Solutions
Lexvid sought the assistance of AllianceTek, a leading IT and business software solutions company that provides global end-to-end services. AllianceTek has a history of working with e-learning clients and has developed custom e-learning platforms for several universities and continuing education programs. AllianceTek designed an enhanced media player that can fully integrate with Lexvid's existing system without any system related changes.
Implementation
AllianceTek developed a new video player using HTML5 that works through any web browser and can be used on any device. The player came with enhanced features such as pause, rewind, and fast-forward, and includes customized implementations such as pop-up advertisements, user tracking, saving, and an in-built slideshow player. Lexvid provided the key web services required to integrate the new player with back-end systems to maintain registration and login details, advertisements, and older video files.
Result
As a result of AllianceTek' s assistance, Lexvid received an enhanced, comprehensive media player that offers better training options to their users and is accessible from any browser and device. The user-friendly HTML5 and JavaScript-based media player features an enhanced user interface and completely integrates with Lexvid's existing system to reduce complexity and minimize changes.
Social Media
Similar Projects
I received a great value for the price when working with AllianceTek. The deliverable was very well done, and communication was professional and timely.
- Ernest Chapman
(Owner)
Expedigital Software
Let's Discuss


Your Project
Discover
Why AllianceTek?
As an IT partner and solutions provider, AllianceTek will help you follow your objective and implement strategies that are unique to your business to see it through to completion – we don't just follow instructions, we unleash the full potential of your vision. AllianceTek employs a global team of more than 100 skilled developers and consultants who approach every project holistically, giving full around-the-clock attention to understanding our clients' needs and providing comprehensive, scalable and extensible development roadmaps.
Know more »