Case Studies
Mobile Ecommerce Solution
AllianceTek's client is one of the largest shopping malls, and one of the first luxury malls, in India. The mall is considered to be one of the best shopping centers in Asia and houses high-end stores that cater to fashion, entertainment, dining, and art.
Challenges
The shopping mall needed a way to compete with the growing number of retail centers, and wanted to ensure they would retain their existing customers by implementing an enhanced, more convenient shopping experience. They also wanted to attract new customers and discover new revenue channels by developing a mobile application that would reduce the time and cost spent on sales and marketing. The mobile application would provide complete details about the mall, products, store locations, and promotions to serve as a digital sales and marketing agent for customers.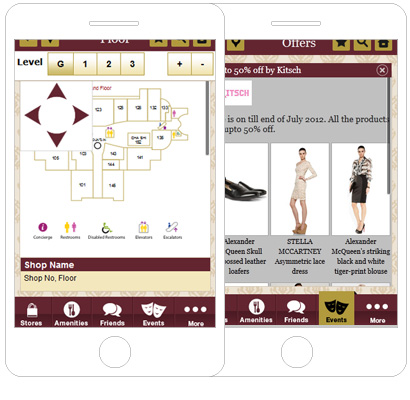 I was very green to a lot of the procedures to releasing an app. They really educated me on the subject matter and provided valuable insight into the design and collaborative process. Will definitely use them again and would recommend to anyone looking to create an app.
- Ricardo Banda
(Owner)
Vanin Electric
Houston, TX
Solutions
The shopping mall sought the assistance of AllianceTek, a software solutions company with experience in designing mobile applications and business solutions. AllianceTek evaluated the mall's requirements and developed an innovative cross-platform mobile application with offline capabilities using the PhoneGap framework. The new mobile application includes enhanced features such as store management, a complete product catalogue, notification management, social media and calendar integration, dynamic tools for events, promotions and special offers, and user chat capabilities. The shopping mall application implemented location-based features, such as a store locator, interactive floor plans, and a navigation system that guides users to a selected store from their current location.
Implementation
The application allows for two kinds of users: administrators and end-users. Administrators can login to manage the app's features, such as the store information, various types of notifications, and promotional announcements. End-users can login and browse various stores with interactive images and pinpoint the type of shopping experience they're looking for, whether it's fashion, food, or jewelry. The application makes finding stores easy through a screen that displays available stores by their brand and floor along with other information, including descriptions of offers, images, hours of operation, and contact details. Advanced search capabilities assist users in finding stores and a mall locator helps users find stores within the mall. Users can also communicate with each other by inviting friends to download the app and through social media integration.
Result
As a result of working with AllianceTek, the shopping mall now has an enhanced and comprehensive cross-platform mobile application for shoppers. Users can easily find stores and product information, and can receive direct notifications about special offers and promotions through a one-tap solution. The application has reduced the time and resources the shopping mall spent on sales and marketing for individual customers while increasing their overall customer base.
Social Media
Similar Projects
Why AllianceTek?
As an IT partner and solutions provider, AllianceTek will help you follow your objective and implement strategies that are unique to your business to see it through to completion – we don't just follow instructions, we unleash the full potential of your vision. AllianceTek employs a global team of more than 100 skilled developers and consultants who approach every project holistically, giving full around-the-clock attention to understanding our clients' needs and providing comprehensive, scalable and extensible development roadmaps.

Your inquiry is submitting. Please wait for a while…