Case Studies
B2C Platform built on MVC architecture
Hired Society began as the brainchild of two business entrepreneurs who had an idea for a new and innovative new way for service providers and consumers to connect. Through the Hired Society platform, consumers can post projects that require service, and service providers can post services they offer. Each party can place a bid on a project or service and the consumer can choose the provider that best meets his/her needs.
Challenges
Although the concept was sound, the entrepreneurs behind Hired Society lacked the technical expertise to execute their idea on a B2C platform. The project would require an IT Partner who could provide the proper analysis and research documentation to take the design of Hired Society through the software development lifecycle. The execution of Hired Society needed to include a way to manage service provider, customer information, and membership levels, and include a simple e-commerce payment module for members.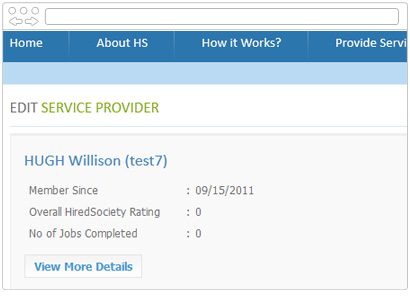 AllianceTek is fantastic to work with. They are a team of true professionals. You will become friends with the people at AllianceTek. Not only do I recommend them for your projects, but I am going to use them again. They know what they are doing, they give suggestions, and anticipate potential issues. I am so happy to have crossed paths with this fine group of professionals.
- Alex Ghatan
(President)
Skyline Property Group Inc.
Atlanta, GA
Solutions
AllianceTek analyzed the concept behind Hired Society and developed a plan for a solution that would realize the idea as a dynamic web portal with an advanced content management system. AllianceTek's CMS was designed to manage the service providers' profiles, services, documents, and customer recommendations as well as customer profiles, needs, and documents. User details are validated with a zip code using an integrated JSON method. Users would also be able to use a flash uploader that supports simultaneous uploading of multiple files. The platform would use PayPal PRO as a payment solution with recurring payment features for the various membership levels.
Implementation
AllianceTek developed the new platform with ASP .NET MVC 3.0 architecture, using SQL server R2 and LINQ for better website loading performance. We developed a dynamic admin module to help manage the publicly visible areas of the platform. AllianceTek, always mindful of quality performance above all else, employed a multi-level quality control system to ensure the solution remains bug free.
Result
The result of working with AllianceTek was the full realization of Hired Society from concept to reality. Hired Society was effectively monetized, and service providers and consumers are finding the right partners through the platform. AllianceTek provided an end-to-end solution and continues to provide support and management to the platform as its user-base grows.
Social Media
Why AllianceTek?
As an IT partner and solutions provider, AllianceTek will help you follow your objective and implement strategies that are unique to your business to see it through to completion – we don't just follow instructions, we unleash the full potential of your vision. AllianceTek employs a global team of more than 100 skilled developers and consultants who approach every project holistically, giving full around-the-clock attention to understanding our clients' needs and providing comprehensive, scalable and extensible development roadmaps.

Your inquiry is submitting. Please wait for a while…