Case Studies
Mobile Help in Fire Emergencies
The client runs a company with the aim to provide mobile applications for public safety. They help notify government agencies and the general public about emergencies in their area and provide assistance in reaching help on time. The company sought a technical partnership with AllianceTek to develop a mobile application that provides immediate response to fire emergencies and disasters.
Challenges
During times of public emergency, 911 can become flooded with calls that require an immediate response. The client was in search of a solution that would help the public locate the nearest firehouse through their mobile device and contact them directly rather than through a 911 dispatcher. They also needed to display the geographic locations of firehouses in a selected area and provide directions between the firehouse and the disaster site. Additionally, the company needed the app to be able to handle and respond to a high volume emergency notifications.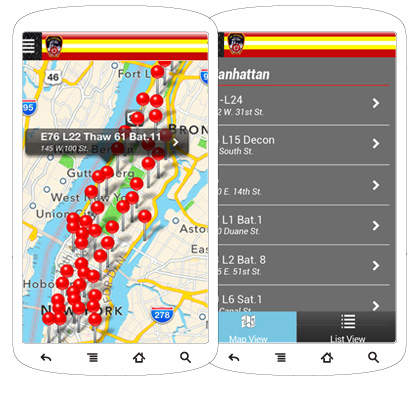 Solutions
The client sought the assistance of AllianceTek, a leading IT solutions and software development company with experience in creating custom mobile applications for organizations. AllianceTek carefully studied the client's challenges, addressed their requirements and developed a comprehensive Android application that could handle numerous emergency notifications during disaster situations. The app allows a person in need to find the nearest firehouse, along related details and even an image of the building with just a few taps. Users can search for a firehouse by name or by area. The app also includes the ability to place an immediate 911 call. Emergency workers can use the application to locate the disaster area and receive up-to-date direction so they reach the area as fast as possible.
Implementation
The Android application implements Google Maps Integration, allowing users to receive up-to-date directions and conduct area searches. The application is loaded with pre-defined information on firehouses in selected cities. The application also facilitates the user to search a firehouse by its name or search by area.
Result
As a result of working with AllianceTek, the client received a comprehensive mobile solution that facilitates swift emergency responses. It allows people on the scene to quickly alert emergency services and gives emergency workers the tools to arrive at the site as fast as possible. Disasters can be more easily mitigated and victims can receive the aid they need promptly. The mobile application solution AllianceTek provided the client has improved the way emergency workers protect the lives and safety of the general public, increasing the speed at which emergency services are notified and decreasing the time it takes them to get to the disaster location.
Social Media
Similar Projects
I consider my company lucky to have a resource like AllianceTek. I was pleased to collaborate with their team to come up with the best solution for our needs. I look forward to working with them in the future.
- Brandon Askew
Street Grindz
Honolulu, HI
Let's Discuss


Your Project
Discover
Why AllianceTek?
As an IT partner and solutions provider, AllianceTek will help you follow your objective and implement strategies that are unique to your business to see it through to completion – we don't just follow instructions, we unleash the full potential of your vision. AllianceTek employs a global team of more than 100 skilled developers and consultants who approach every project holistically, giving full around-the-clock attention to understanding our clients' needs and providing comprehensive, scalable and extensible development roadmaps.
Know more »