Case Studies
Bluetooth Based Mobile Access Control System
AllianceTek's client designs, manufactures, and markets Smartphone access control systems and components, as well as Smartphone apps and hosted services. Their services include a Smartphone security system that effectively turns Smartphones into keys for homes, apartments, hotel rooms, and cars.
Challenges
Originally, in order for users to control their devices, they had to connect with a web management portal through web services using a sync application. This required users to use the mobile application with Bluetooth support. The client realized they needed a simpler way for users to control the devices and wanted to develop an Android mobile app that does not require a web management portal. Such an application would improve and simplify the user experience by implementing a one-tap solution that offers full control over their devices through a single Android mobile application.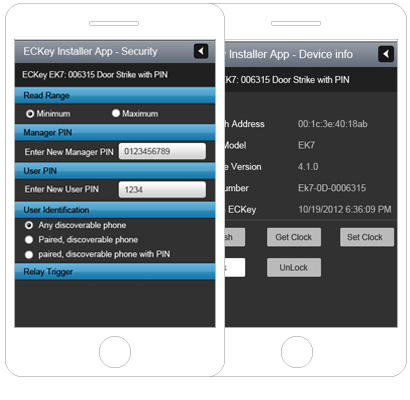 I hesitate to say how happy I am with this group because I'm not sure I want others to know what a great find they are. If everyone knows, I may have to wait in line. They go above and beyond the call, to help me reach my goals. Looking forward to working with them on the next project.
- Jeff Blasdell
Montgomery, TX
Solutions
The client sought the assistance of AllianceTek, who built a fully integrated Bluetooth-based software and hardware application to control hardware from a mobile app and achieve the functionality of locking and unlocking doors. The app can also control other hardware devices and settings from a user's mobile phone. AllianceTek analyzed the client's system operations to determine ways to make the user experience simpler. The solution was a fully realized Android mobile solution that controls devices from a single mobile application using the client's existing web services. The solution makes use of the client's existing systems and bypasses the web management portal to improve the user experience.
Implementation
AllianceTek created two types of users for the application: admins and Installers. Users must provide an unlock code in order to use the application as an admin or installer. Afterwards, they can change and manage relevant settings for their devices. The new application can also scan compatible devices and set up a selected device for communication until a different device is selected. The app keeps the selected device's name and serial number on all other pages and shows only those devices that are in range. The application is supported by Android OS version (Jelly Bean: 4.1 to 4.1.2 and Ice Cream Sandwich, all versions of Honey comb, all versions of Gingerbread 2.3.3 to 2.3.6).
Result
AllianceTek's Bluetooth-based Android mobile application proved to be an enhanced and comprehensive solution, allowing users to more easily and securely access and manage their compatible devices without going through a web management portal. The improved user experienced increases the speed of operations and simplifies the process through an enhanced interface with independent single-tap solutions. AllianceTek developed the solution at a low cost because the application uses the client's existing web services. The client now has a fully functional and secure application that makes use of their old system while providing their customers with a product that implements improved and reliable functionalities.
Social Media
Similar Projects
Why AllianceTek?
As an IT partner and solutions provider, AllianceTek will help you follow your objective and implement strategies that are unique to your business to see it through to completion – we don't just follow instructions, we unleash the full potential of your vision. AllianceTek employs a global team of more than 100 skilled developers and consultants who approach every project holistically, giving full around-the-clock attention to understanding our clients' needs and providing comprehensive, scalable and extensible development roadmaps.

Your inquiry is submitting. Please wait for a while…