Case Studies
Therapy session recorder
CBT4Kids is a company located on the Gold Coast in Queensland, Australia, founded by two Australian clinical psychologists and experts in cognitive behavior therapy. Their aim is to provide innovative and high-quality evidence-based therapy tools for practitioners that incorporate computers and cutting edge mobile technologies.
Challenges
CBT4Kids wanted to find new ways to integrate technology into behavioral therapy and had an idea for a suite of iPad apps. The suite would begin with a single navigational toolbox app that directs purchasers to other available apps. The complete app suite would provide psychologists and other mental health professionals with tools to use in therapy sessions with children. They wanted their apps to be both informative and engaging, so the apps needed to present reliable information in an entertaining way. To begin this project, CBT4Kids wanted to create the initial toolbox app along with a sample tool, with the ability to add more in the future.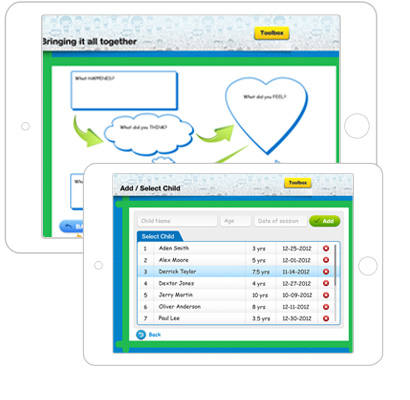 AllianceTek were very patient and professional with us throughout the whole job but especially when we made changes to the original proposal after the job was underway. Would definitely use them again.
- Julie Henry
CBT4Kids
Australia
Solutions
CBT4Kids sought the assistance of AllianceTek, a software solutions company with experience in developing custom iOS applications. AllianceTek designed the initial toolbox app that displays the developers, a list of resources available, a sample tool, and a link to the subscription service where the user can purchase other apps. We designed the tool to allow therapists to save notes and results of individual workshops with each child client on their iPad, and access them at a later date. AllianceTek designed the app with animations, such as a beating heart or sweaty face, to denote certain psychological factors and increase usability. We also implemented voice and music options to allow a variety of different educational and therapeutic interactions.
Implementation
AllianceTek implemented the app with the ability to allow therapists to easily record and save information during sessions. Therapists and their clients are able to type or draw within the app. They can save information such as the child's name, pictures, avatars and other preferences and notes. After a session, the therapist can review the work on the app and implement his or her own analysis and course of action
Result
As a result of working with AllianceTek, CBT4Kids was able to offer an app that improves the effectiveness of child therapy for both therapists and children. The user-friendly design allows for an enhanced therapy experience with increased accessibility, usability, speed, and reliability. With the toolbox app, CBT4Kids is able to advertise directly to purchasers whenever new apps are added, and provide therapists with an improved means of educating and working with children.
Social Media
Similar Projects
Why AllianceTek?
As an IT partner and solutions provider, AllianceTek will help you follow your objective and implement strategies that are unique to your business to see it through to completion – we don't just follow instructions, we unleash the full potential of your vision. AllianceTek employs a global team of more than 100 skilled developers and consultants who approach every project holistically, giving full around-the-clock attention to understanding our clients' needs and providing comprehensive, scalable and extensible development roadmaps.

Your inquiry is submitting. Please wait for a while…