Case Studies
Online Educational Resource
MS-Leaders.org is an online educational resource for MS clinicians designed to provide cutting- edge information and resources to help support patient care. MS-Leaders.org provides a variety of engaging and clinically relevant educational platforms to deliver a breadth of content to meet the needs of busy clinicians.
Challenges
MS-Leaders, a leading health education organization, accumulated a wealth of content and data regarding MS research and treatment. However, MS-Leaders lacked an online platform to share and deliver information to their users. They also needed a better solution to maintain and update their existing content and manage their rapidly emerging material on new MS research and developments.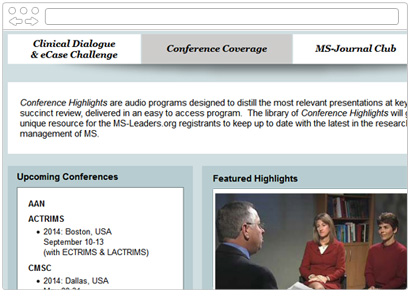 I had a very good experience working with this team. They are very friendly and available and know to take some initiative when needed. More than that, they delivered perfect work in time!
- Alexandre Gonzales
Webaoo USA, Inc.
Las Vegas, NV
Solutions
AllianceTek, a software solutions company with specialized expertise in online e-learning platforms, analyzed MS-Leader's situation and offered a solution that fits their unique needs. In order to empower MS-Leaders to maintain and share their content and manage their users, AllianceTek proposed an Administration Panel that would manage their website information, generate automatic data reports, track progress, and include an "ask-the-expert" that allows end- users to interact directly with instructors. The solution includes rich features such as audio and visual effects, reporting, tracking, surveys, and enhanced content administration functionalities.
Implementation
AllianceTek implemented the proposed solution through a CMS-based website that includes AllianceTek's custom e-learning platform. The e-learning platform was developed with C# and ASP.NET on the front end for enhanced CMS features and elements, while the back end is managed by SQL Server 2005. To manage content easily, documents can be updated from a single XML file. AllianceTek also created an admin website where approved users can upload and manage conferences, faculty, and user registration. AllianceTek also optimized the code for faster performance on the client website.
Result
With the solution seamlessly implemented and MS-Leader's vast library of content organized in an efficient and intuitive system, MS-Leaders is now able to deliver a more effective e-learning experience for its users while decreasing their own overhead maintenance costs. Users can now register and navigate easily through content from the website, view faculty information, workshops, and videoconferences, and listen to audio files. Managing content and dispensing information is easier than ever before with this customized solution.
Social Media
Why AllianceTek?
As an IT partner and solutions provider, AllianceTek will help you follow your objective and implement strategies that are unique to your business to see it through to completion – we don't just follow instructions, we unleash the full potential of your vision. AllianceTek employs a global team of more than 100 skilled developers and consultants who approach every project holistically, giving full around-the-clock attention to understanding our clients' needs and providing comprehensive, scalable and extensible development roadmaps.

Your inquiry is submitting. Please wait for a while…