Case Studies
Sales Quota & Activity Report Integration on Salesforce Platform
Acacia is a leading commercial facilities maintenance and improvement service provider for the eastern United States. Their corporate objective is to help commercial real estate owners and managers substantially reduce their building operating costs, increases efficiency, and maximize value through innovative approaches to sourcing, supplying, and managing building services.
Challenges
In order to achieve a five million dollar revenue target, Acacia needed a more robust tool to track and compare the annual sales for all sales representatives. The solution would need to exist on the current Salesforce platform and track sales processes by measuring actual performance against pre-determined sales goals and objectives. Tracking data would include sales quota by product, employee, and month. Comparative data would include monthly quotas vs. actual sales closed, sales by products vs. actual sales closed, and the tracking of assigned activities vs. actual activities performed.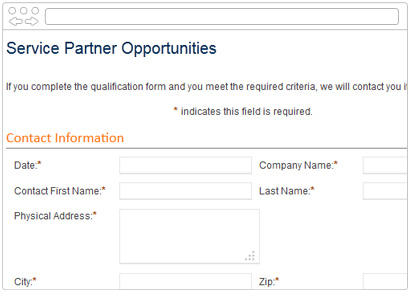 What an awesome experience I had working with this team. If you need a professional, reliable and competent team to help you out with any of your tech needs you don't need to look any further. From start to finish this team really made the process easy and did a fantastic job. I would use them again in a heartbeat.
- Payam Pakmanesh
(CEO)
Cable Car Apps LLC
Hercules, CA
Solutions
AllianceTek, a business solutions company, assessed Acacia's business needs and environment and proposed a solution that would help senior executives track, monitor, and assign Sales and Activities Quotas for the Sales Team. AllianceTek used industry best practices and solutions that have been certified by the Salesforce Team in building the solution. Although Acacia currently had an unclear picture of its sales quota distribution, they had a revenue target and, working with AllianceTek, were able to design the data model around the product families and come up with detailed quotas with respect to employees, months, and the products. Additionally, employee hierarchy was setup so that sales quota would roll up to levels higher in hierarchy, and management would get complete picture without need to drilldown. AllianceTek met another requirement to develop a system for assigning activity goals to the Sales Team per month and a way to compare the results. AllianceTek worked closely with Acacia to devise metrics for the results and how to assign activity goals to the employees within the organization.
Implementation
AllianceTek determined that Customizable Forecasting was the best solution proposed since it featured the ability to track Sales Quotas on the Salesforce license subscribed by Acacia. A forecasting hierarchy was setup for roll-up summary reporting. Activities' tracking was enabled by Salesforce Matrix reports which can be run for a stipulated period of time and also scheduled to be emailed to the management team every month. Activity Assignment was facilitated out using Chatter and Content Library. This Annual Quota of activities can be shared with the respective employees, but not edited by them.
Result
The result of the solution was that Acacia now had a way of tracking and monitoring sales goals and could more easily find areas of improvement to reach those goals. Tracking Sales and Forecasting were now just a click away for the sales manager who can now see how many opportunities are in Pipeline– not only by Sales Rep, but also by month and product. Managers are now able to see how well the sales team is meeting its activity quota and measure success by checking lead conversion and creation of new opportunities This solution assisted Acacia in deciding who, when, and where the sales team needed a push to meet its financial objectives and where to re-write the small milestones to reach the target of five million.
Social Media
Similar Projects
Why AllianceTek?
As an IT partner and solutions provider, AllianceTek will help you follow your objective and implement strategies that are unique to your business to see it through to completion – we don't just follow instructions, we unleash the full potential of your vision. AllianceTek employs a global team of more than 100 skilled developers and consultants who approach every project holistically, giving full around-the-clock attention to understanding our clients' needs and providing comprehensive, scalable and extensible development roadmaps.

Your inquiry is submitting. Please wait for a while…