E-Learning Software Development Services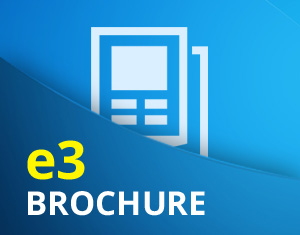 Welcome to the home of e3, the best E-Learning software that takes the concept of digitally delivering knowledge to the next level through social integration, organization, and evaluation. Our vision, through E-Learning Software Development Services, is to radically enhance the way you Educate, Collaborate and Communicate – transforming your organization and giving you the competitive edge to keep ahead of the rapidly changing challenges of your industry.
The e3 platform is our E-Learning services breakthrough system that combines traditional e-learning with social integration, team collaboration, and easy-to-use organization and administration features. The e3 platform was designed with universities, corporations, and medical research institutions in mind to amplify the way these organizations learn, share, and grow through information discovery and knowledge-sharing, so it is easily utilizing as an online training software, education software and corporate LMS software.
Please tour our website to learn how the e3 Learning Management Software has already been seamlessly deployed into prominent medical institutions and corporations. Learn how e3 has provided a positive return on their investment in E-Learning technologies.
Find out how e3 best E-Learning software can be integrated into your existing infrastructure to save time and money while pushing new skills and critical improvements that are crucial to your continued success. Our expert team will also be happy to serve as E-Learning Consultants for complete E-Learning Solutions.
I hesitate to say how happy I am with this group because I'm not sure I want others to know what a great find they are. If everyone knows, I may have to wait in line. They go above and beyond the call, to help me reach my goals. Looking forward to working with them on the next project.
- Jeff Blasdell
Montgomery, TX
Why AllianceTek?
As an IT partner and solutions provider, AllianceTek will help you follow your objective and implement strategies that are unique to your business to see it through to completion – we don't just follow instructions, we unleash the full potential of your vision. AllianceTek employs a global team of more than 100 skilled developers and consultants who approach every project holistically, giving full around-the-clock attention to understanding our clients' needs and providing comprehensive, scalable and extensible development roadmaps.

Your inquiry is submitting. Please wait for a while…