Latest News
An 80/20 approach to Software Development
When it comes to custom software development projects, companies usually take one of two approaches. They either use global resources, or they rely solely on local resources, hoping to get the best results. Both approaches have benefits and drawbacks.
Developing software remotely
+
Lower cost when developed globally.
-
Language, cultural, and logistic obstacles may result in unexpected delays, miscommunication, and costly errors
Developing software in U.S.
+ Ease of communication.
- Higher cost factor.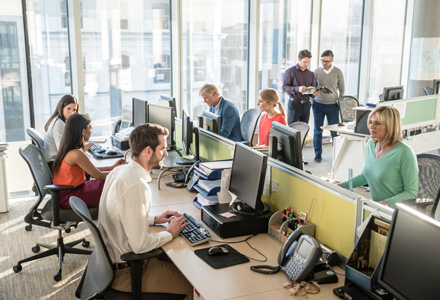 I consider my company lucky to have a resource like AllianceTek. I was pleased to collaborate with their team to come up with the best solution for our needs. I look forward to working with them in the future.
- Brandon Askew
Street Grindz
Honolulu, HI
There is another option: the best of both approaches
AllianceTek takes an 80/20 approach to custom software development, keeping a client-facing design team based in the United States, and employing a global team of top-notch software engineers who have expertise in many technologies.

+ 80% of our clients' projects are completed by a dedicated team of experts at a remote location.
+ 20% - the client-facing team – is handled in the U.S. Our clients deal only with our management team, as their software development project evolves. Project management control stays in the United States, and our responsive stateside team handles all communication with the global team. The project management team acts as your communication bridge to the developers who build your project. Working this way, issues get resolved quickly and your needs are promptly met.

This 80/20 approach to software development has proved highly successful for AllianceTek, yielding nearly 15 years of success.
We follow a three-tier process for custom software development:
Tier 1 is about your business – the problem to be resolved or an opportunity to be captured.
Tier 2 is the U.S.-based AllianceTek team - a project manager, business analyst, designer, and delivery manager. They are responsible for understanding your requirements and key design decisions that deliver the functionality you need in the user interface.
Tier 3 is the global development work under expert guidance from the U.S.-based client-facing team.
Working with this approach, AllianceTek helps you leverage the best global resources to maximize your return on investment.

To learn more about how the AllianceTek team will work with you, read our Application Roadmap blog, or call us today at 646-810-8774 for a free evaluation to discuss how we can help your company grow with an IT business solution.
AllianceTek: Empowering IT solutions to help businesses thrive.
Since 2004, AllianceTek has been providing project-based, end-to-end custom software development services, with extensive experience in building mobile, cloud, and web solutions. Our core expertise lies in building IT business solutions based on leading technologies and platforms, such as Salesforce, Microsoft .NET, Microsoft SharePoint, iOS, Android, and many others.

Call us at 484-892-5713 today to learn how 80/20 approach of software development helps you to unleash your business potential.
Social Media