Let's Discuss Your Project

»
»

What's new in SharePoint 2016?
Latest News
What's new in SharePoint 2016?
Microsoft released SharePoint 2016 Beta 2 and Project Server Beta 2 for IT review. So what is expected from the new SharePoint 2016? SharePoint 2016 improves performance for the web application platform by offering enhanced features, stronger infrastructure, and integration between on-premises and Office 365. The updated version of SharePoint includes upgrades in the areas of:
User Experience
Changes to App Launcher and User Interface, which provide a familiar experience similar to that of Office 365
An infrastructure that enables you to easily see, search, and manage all your sites in one place
A consistent, cross-screen, mobile-friendly experience with mobile push and information synchronization
Increased maximum file size for uploads to 10GB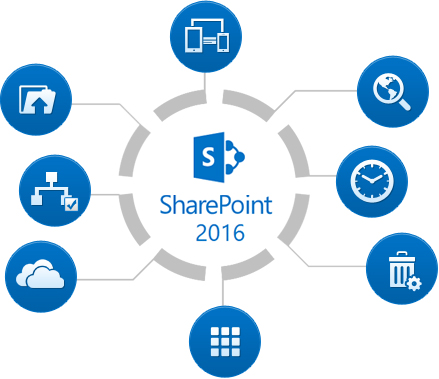 Infrastructure
Hybrid cloud search – allows easy content search
Refined One-Drive redirection, which links on-premises and Office 365
Role selection for servers, which includes a multi-role feature to define roles with easy steps
Automated creation of indexed columns in the document library to handle 5,000-view threshold
Compliance
Automated document deletion tools
Faster site creation – able to create site collections in 1 second
Zero downtime patching
Overall, SharePoint 2016 is a logical upgrade. All three facets of its evolution aid each another, and altogether make for a platform that is functionally strong and presents a powerful, friendly user interface. People-centric tools allow for easier storage and collaboration. Hybrid cloud allows all content to be connected and searchable. Finally, a compliance center allows you to set policies in place to control your environment. All of these improvements culminate into a platform with unparalleled user experience, cloud-inspired infrastructure, and day-to-day reliability.

What are your thoughts on the improved SharePoint? Comment below with your thoughts and concerns, and contact AllianceTek today to learn how you can use software like SharePoint to unleash your business potential.
Social Media
I consider my company lucky to have a resource like AllianceTek. I was pleased to collaborate with their team to come up with the best solution for our needs. I look forward to working with them in the future.
- Brandon Askew
Street Grindz
Honolulu, HI
Let's Discuss


Your Project
Discover
Why AllianceTek?
As an IT partner and solutions provider, AllianceTek will help you follow your objective and implement strategies that are unique to your business to see it through to completion – we don't just follow instructions, we unleash the full potential of your vision. AllianceTek employs a global team of more than 100 skilled developers and consultants who approach every project holistically, giving full around-the-clock attention to understanding our clients' needs and providing comprehensive, scalable and extensible development roadmaps.
Know more »
Your inquiry is submitting. Please wait for a while…