»
»

Hosting
Hosting
AllianceTek has the right experience and unmatched expertise in hosting web servers, mail servers, SharePoint systems and Custom ERPs.
Why AllianceTek?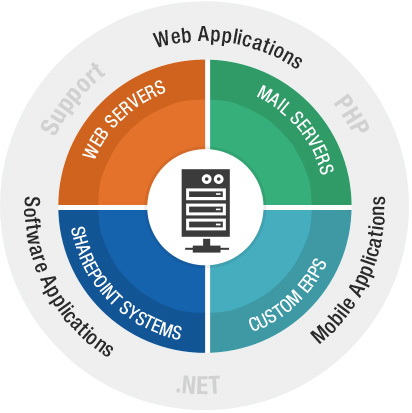 AllianceTek has provided a range of clients with end-to-end services from requirement gathering and development to deployment, hosting and support.

We have worked on several industry-specific applications and have years of experience deploying on web, mobile and software applications.

Our hosting services include shared as well as dedicated hosting of various web applications built on diverse platforms like PHP and .NET.

AllianceTek also has experience in hosting web applications on giants like AWS and Azure.

We also offer advanced levels of hosting that provide replication of virtual private servers (VPS). For VPS we provide IAAS and SAAS based support.

Security of your data is important to us. We take all measures to prevent any infiltration into our servers. We perform regular server updates and apply security patches as and when there is a new update. We also take regular backups to safeguard your data.
When required, we also provide service level agreements (SLA), which cover components like:
99.3% Network Uptime
Network monitoring to track resource consumption
Regular Data Backups
In addition, AllianceTek's hosting services include the following:
Analytical tracking and statistics for web servers
Web mail services as well as anti-spam and anti-virus solutions for mail servers
We have hosted several applications and have continued to provide reliable, cost-effective, and secure deployment and hosting services.

We provide end-to-end services to our clients as per their requirements. Have a look at our applications where we have provided hosting as a part of our service package –
Call AllianceTek today and discover more about how our hosting services can enhance the performance and dependability to your system. We'll help you plan the best course of action to meet your specific business needs.
AllianceTek was the major difference in our project getting completed and our company growing into the automated system it is today. The level of service you receive starts right from the owner himself down through his levels of staff and implementation specialists regardless of their location worldwide. AllianceTek has become our technology and implementation partner and we highly recommend their service to any company small or large who is looking for timely, active and effective implementations. Thank you AllianceTek.

- Mark Johnston
(CEO)

Toronto, ON Canada
Let's Discuss


Your Project
Services
Discover
Why AllianceTek?
As an IT partner and solutions provider, AllianceTek will help you follow your objective and implement strategies that are unique to your business to see it through to completion – we don't just follow instructions, we unleash the full potential of your vision. AllianceTek employs a global team of more than 100 skilled developers and consultants who approach every project holistically, giving full around-the-clock attention to understanding our clients' needs and providing comprehensive, scalable and extensible development roadmaps.
Know more »