»
»

Application Integration
Application Integration
Your business might need integration services:
If your business operations are running on disparate systems
If your existing system falls short of new business requirements
If you want to synchronize your business operations and make the right decisions, but the information you need is scattered across different departments
If you want to improve communication and collaboration between isolated units within your organization and divert money, resource energy and time into more useful tasks
If you're trying to capture your target audience on an alternate platform
Why AllianceTek?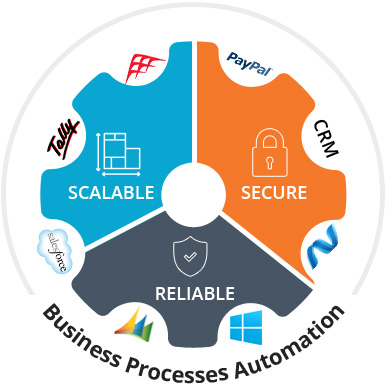 AllianceTek has more than a decade of experience in providing high-end business solutions.

Our application integration solutions are highly scalable, secure and reliable.

AllianceTek's technology consultants will study your existing system and leverage their expertise to implement the right integration solution that fits your business needs.

AllianceTek provides seamless integration services and implements advanced, high-performance technologies for your system and data integration. We have skilled experts on multiple technologies, which makes us a one-stop shop for providing integration services. We have adequate expertise on integrating applications running on various platforms including Windows, LAMP, cloud, mobile, third party software, and middle tiers.

We provide integration services with our service layers and implement advanced technologies for your system and data integration. Based on this we can provide you with comprehensive BI and dashboards.

Our advanced tools can equip you with business intelligence reports that will empower you to make the best decisions and strengthen your business. AllianceTek's application integration services can also automate your business processes and extend your existing system's capabilities.
Our Application Integration Services include:
Tally Integration
Ariba with .net application
Payment and shipping integrations – Paypal, Authorize.net & fedex, Braintree
Salesforce integration with constant contact, quick books, Microsoft Dynamics CRM
3rd party integration with .net - Proflow
Calyx Point Integration
Call AllianceTek today. Our experienced IT professionals are ready to provide you with the roadmap to success through our application integration services, geared to your specific business. We can help you leverage information for improved decision-making, and enhance your system's capabilities and performance with scalable architecture, enhanced security and intuitive processes.
AllianceTek did a great job on my app. Very professional and easy to work with. I would absolutely contract them again for future work.
- Mark Mozolewski
San Francisco, CA
Let's Discuss


Your Project
Services
Discover
Why AllianceTek?
As an IT partner and solutions provider, AllianceTek will help you follow your objective and implement strategies that are unique to your business to see it through to completion – we don't just follow instructions, we unleash the full potential of your vision. AllianceTek employs a global team of more than 100 skilled developers and consultants who approach every project holistically, giving full around-the-clock attention to understanding our clients' needs and providing comprehensive, scalable and extensible development roadmaps.
Know more »