Let's Discuss Your Project

Portfolio
Mobile Ecommerce Solution
A mobile solution was developed to act as a shopping companion for the users visiting a shopping mall with key focus on enhanced shopper experience as well as reduce the cost of sales and marketing.
Why AllianceTek?
AllianceTek built a feature-rich mobile solution for a shopping mall that should act as a shopping companion to its users.
The main objective of the client was an enhanced shopping experience for the mall's visitors and also reduce the cost of sales and marketing.
AllianceTek created a cross-platform application to make it available to multiple devices.
The application included location-based and interactive features like - store locator, interactive floor plan and an interactive navigation system.
The app also features social media and calendar integration and user chats.
All-in-all a comprehensive mobile solution was created as per the client's requirement.
The client could greatly enhance the shopper experience by providing with a customer login to enable the user search for stores, receive notifications about special events, chat with other users.
This allowed the mall to offer a more convenient way to shop while decreasing the amount of time and money spent on sales and marketing.
Technology Features: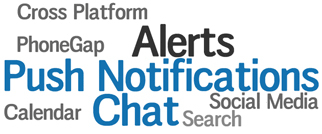 Case Study

AllianceTek's client is one of the largest shopping malls, and one of the first luxury malls, in India. The mall is considered to be one of the best shopping centers in Asia and houses high-end stores that cater...
Similar Projects
These guys did a tremendous job. I will definitely work with them again. They communicate quickly, respond to feedback and have great expertise.
- Reggie Brown
Kirkland, WA
Why AllianceTek?
As an IT partner and solutions provider, AllianceTek will help you follow your objective and implement strategies that are unique to your business to see it through to completion – we don't just follow instructions, we unleash the full potential of your vision. AllianceTek employs a global team of more than 100 skilled developers and consultants who approach every project holistically, giving full around-the-clock attention to understanding our clients' needs and providing comprehensive, scalable and extensible development roadmaps.
Know more »
Your inquiry is submitting. Please wait for a while…